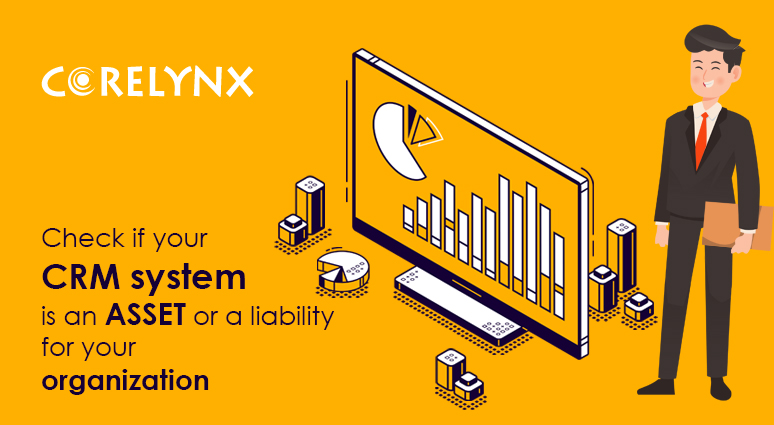 Posted by Paul Anderson
Check if your CRM system is an asset or a liability for your organization
You have a healthy work culture; a committed workforce; a strong pipeline of marketing campaigns, but still your organization is failing to generate the right ROI? If yes, then perhaps you need to recheck your enterprise software applications.
It is interesting to see that most business entrepreneurs perceive enterprise applications' deployment as a once in a life investment. To substantiate this fact,
let's cite a recent study –
According to a recent study conducted, it was seen that outdated and inefficient enterprise software applications were a prime reason for organizational incompetence. Taking this study into consideration, it becomes important for every organization to understand a few important facts-
An enterprise application that you have installed years ago might not be able to handle the present organizational needs
A total dependence on enterprise software is not advisable. Regular analysis of the system (whether it is serving any purpose) is required.
In what follows are 4 easy signs to detect if a bad CRM system is causing your organizational failure:
Does your CRM manage the workload?
Gone are the days when lack of information would be a problem within an organization. Today, things have turned over and it is just the contrary that takes place – excess information workload.
A CRM system that fails to streamline piles of data is not useful. If your employees struggle to get the accurate customer data within minutes or often have to source the data from multiple channels – it is indeed an alarming sign.
Perhaps what you need is a well-designed Cloud based CRM application that provides aggregated data in a ready-to-use format. With a centralized CRM software application, sales, marketing and customer-support teams can easily execute their daily operations.
Can your CRM substitute the absence of a key member?
A CRM system that has a process-driven interface can step up to rescue you in the most dreadful plights. Confused? Let's suppose, an important marketing professional of your organization suddenly resigns
Will your marketing team wobble? Will all your marketing campaigns remain stranded in the middle? Will your organization lose track of all its leads generated? If yes, then your CRM system does needs a change.
A process-driven CRM system will not make you depend on others. For rare occasions when you do not have your trusted professionals by your side, customer relationship management solution tool can always be your reference.
Is your CRM standalone?
To bring higher rate of customer retention, efficiency and consistency in your organization, you need a CRM system that functions as a part of the entire work process. A CRM system functioning as a separate tool can make your work process disorganized. Furthermore, it can prevent you from understanding the exact status of your customers/prospects.
Does your CRM respond to customer feedback?
The main purpose of a customer relationship management service tool is to have improved and quick customer-responsive rate. However, a CRM that is installed several years back might not be that efficient now in handling customer responses.
According to a survey, an old and outdated CRM can make organizations lose hundreds of leads and sale opportunities. If you too have an old CRM, possibilities are that your leads are slipping away without your notice.