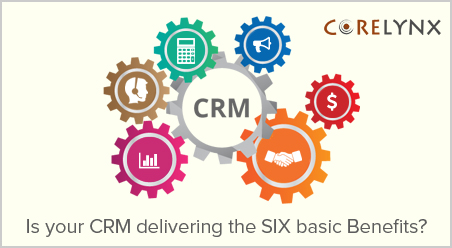 Posted by Paul Anderson
Is your CRM delivering the SIX basic Benefits?
Your CRM (Customer Relationship Management Software Solution) has been in place for some months/years and now is the time that you should gauge how effectively it has been performing for you.
Below listed are 6 basic benefits that robust CRM software solutions provide to business.
So without any ado, take out a pen and paper, put the numbers 1 to 6, read the benefits below and and write down the ones that your CRM offers. Simple, Quick and Accurate!!!
1. Streamlined Customer Data:
CRM functions as the unified repository for organization-wide customer data. That means, post the implementation of CRM software solutions, businesses get rid of the hassle of maintaining multiple databases. CRM allows service, marketing and sales agents to store customer details within its database and access it anywhere, anytime.
It is the upshot of this functionality that businesses are able to get a comprehensive 360-degree view of all the customers from a single platform. So even if businesses lose key sales, marketing and customer service agents, the fear of losing customer data along with them does not exist. Through the CRM, businesses always get to access up-to-date customer information.
2. Better Customer Service:
This is the continuation of the first benefit. With all customer data neatly indexed within the CRM repository, it becomes super easy for any business to provide a better service to its customers. For example, customer support agents can immediately take a look at customer profiles to:
Understand past transactions with the business
Go through all the notes taken on customers feedbacks
Get consolidated knowledge-base of past service issues.
Based on these combined insights, they can treat customers with a more personalized service and solve future problems in a timely fashion. This improved customer service leads to increased customer loyalty and correspondingly decreases customer attrition. And just as mentioned above, the greatest advantage is that businesses can be rest assured to always provide a personalized experience to customers regardless of which employee deals with customers.
3. Elimination of Inefficient Practices:
It is observed that the existence of multiple systems always lead to excessive loss of time. Majority of the hours employees are caught up updating data across spreadsheets and contact systems. However, CRM puts this problem of double data entry to rest. It functions as the consolidation of all these separate solutions required to manage business. So users throughout the business use one application (i.e. CRM) for sales, marketing and customer service activities.
To the relief of all, CRM also automates much of the labor-intensive behind-the-scenes work and enables businesses save several hours, hours which can be focused on other important aspects.
4. Maximized Cross selling:
A CRM system eases out the entire process of cross-selling. Data of the previous purchases stored in the central system of CRM helps sales agents get an idea about their customers wants, needs and patterns of purchase. As a result, when the opportunity is right, sales agents easily cross-sell the most relevant services/products to the existing customers and gain additional value.
5. Optimized Marketing:
Surveys have shown that consistent usage of CRM plays an instrumental role in increasing marketing ROI as well. It happens that with a CRM by the side, businesses get the advantage of viewing purchasing trends and correlating them with marketing campaigns. So if the data suggests that customers respond the best to email marketing campaigns, then businesses execute more email campaigns to drive the desired actions of sales.
CRM simultaneously helps in identifying the most profitable customer groups and the dormant ones. This ensures that businesses target same/similar profitable groups to optimize marketing resources efficiently. Money spent on less profitable customer groups is reduced.
6. Better Internal Communication:
Businesses that use CRM experience better internal communication and collaboration. That is because there is one unified platform of CRM for all departments to input, share and discuss customer data. This enables the entire business to work as a team as opposed to working individually or in isolated groups. As a result, every team is aware of the BIG picture and works towards the same goals. Needless to say, this helps in increasing the business profitability and enabling consistent service to customers.
What is your Score?
Any score less than 5 is bad and alarming!!! Why do we say that? Because the above-mentioned pointers are just the basic first six benefits of CRM software. If you check out the new-age CRM software solutions, you will be surprised to see the additional set of functions that they offer:
Multi-channel Marketing
Document Management
Business Process Management
Workflow Automation
Invoicing
Social integration
Project Management
Reports and Analytics
Hence, if your CRM is unable to deliver successfully on the first six basic functions itself, how do you expect it to help you compete with your competitors? Has not your CRM turned from an asset into a liability for you that is just consuming a space in your business process?
What should be your next move?
45% of businesses are expected to invest on new-age CRM solutions by 2016!
In such a scenario, you cannot afford to sit back with your old CRM tool. Wake up and get on with the process of implementing a new-age CRM that turbo charges your business.
And since the objective behind implementing new-age CRM will be to manage your entire operations, it is rarely possible that an off-the-shelf CRM package will serve your purpose. It is advisable to opt for customized CRM Application Development.
We speicalize in the development of bespoke CRM software solutions and have successfully developed and deployed hundreds of CRM projects across different verticals. Contact us to discuss your CRM requirements.
Have queries related to new-age CRMs? Share it with us below and our team of experts will provide you the best possible insight.