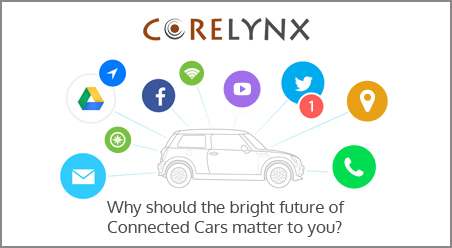 Posted by Paul Anderson
Why should the bright future of Connected Cars matter to you?
Connected Cars is the outcome of Internet of Things (IoT). And soon they are going to skyrocket in the next 2-5 years.
As per a Report by Business Insider –
Demand of connected cars is predicted to expand to $39 billion in 2018 with a whopping 47% annual growth.
Revenues in the connected car market will nearly quadruple between 2015 and 2020.
So what makes connected cars, a hot trend?
The unsurmountable benefits that come with them. In comparison to the counterparts, they are more:
Safer to travel
Easier to control
Fun to drive.
Confused by the last benefit? Wondering how can a car be fun to drive? Find out below –
How can a connected car make your weekend getaway more pleasurable?
It is a bright sunny morning on Sunday and you decide to head on to the museum with your family. The museum is recently opened and you have heard great reviews about it. Now in usual circumstances, you will sit in your car, use the GPS and drive your way to the museum. Simple and standard !!!
But what happens when you have a connected car by your side?
Connected cars have Internet access and are also connected with wireless local area network. They can connect to other devices both inside as well as outside the vehicle. So when you start you do not have to:
Program your destination into your GPS
View the different routes in the GPS unit and choose the shortest one.
Your (connected) car will do all the work for you. It will connect with the GPS unit and suggest the the best possible route. It will analyze your previous itineraries to decide:
Average distance traveled
Preferred road paths.
Based on which it will select the appropriate route for you. Excited? Wait…the fun has just started!!!
In any other car where you have to manually change the gears on the sudden change of terrain– connected cars will be equipped to do it all programatically. It will calculate the present altitude and detect the type of terrain that lies ahead. Accordingly, it will make the changes within itself.
Example – Before a hill, it will inject extra horsepower to take you smoothly over it.
In addition to these two major advantages, it will have a range of other miscellaneous benefits up its sleeve.
It will notify you of all the landmarks that fall along the distance. In case, you want to take a detour there, it will provide you other details about the place as well.
It will suggest you a play list of songs. These songs will be the ones that you and your friends have liked in different social platforms.
In short – all these benefits together will definitely make your trip more pleasurable. Imagine the convenience that you will get. Chatting with your family and friends, you can smoothly drive your way to the destination – while your car does all the hard work for you.
What impact is the connected car having on other industries?
Interestingly, the fever of connected cars has got on to other industries as well. TMC News report has cited that the concept of connected cars have increased the popularity of IoT. As more and more people are gaining knowledge about connected cars, they are getting attracted towards IoT. And now they are demanding the same IoT experience from other industries as well.
Larry Tofel, research analyst at Ovum states –
"Automotive industry is a select industry that has embraced IoT. However, gradually, IoT is taking hold across other industries as well. Thanks to the concept of connected cars that has made it so popular. People now exactly know how smooth and convenient can things become with IoT. So like the cars, they want the IoT concept infused in other devices and services as well."
Are you prepared to deliver on the IoT expectation of your customers?
The Internet of Things is growing rapidly. Top industries to get affected within 3-5 years are Manufacturing, Retail, Healthcare, Automotive, Banking & Finance, Communication, Insurance, Energy & Utilities and beyond.
What does this mean? If you still do not act – chances of falling by the wayside will be high.
The inability to allow your customers get a digital experience no matter where they're situated – is a flashing red beacon to move on to something new. IoT is where your customers are and want to be. Your solution needs to be available there too.
So without any further ado, get on with the IoT initiative.
Corelynx stands as one of the renowned IoT project Consultation and Implementation partners! Holding deep industry knowledge and in-depth technology expertise – we are helping businesses across different verticals, capitalize on the Internet of Things capabilities.
Connect with us to discuss your business priorities. Using our technology-agnostic approach, we will build a comprehensive IoT roadmap to transform your business and make you experience compelling benefits such as:
Improved Efficiency
Increased Customer Satisfaction
Reduced Time and Costs
Better Team Performance.
Have a few doubts regarding IoT concept? Share your queries below. We will have our team of experts provide you the best possible insight.