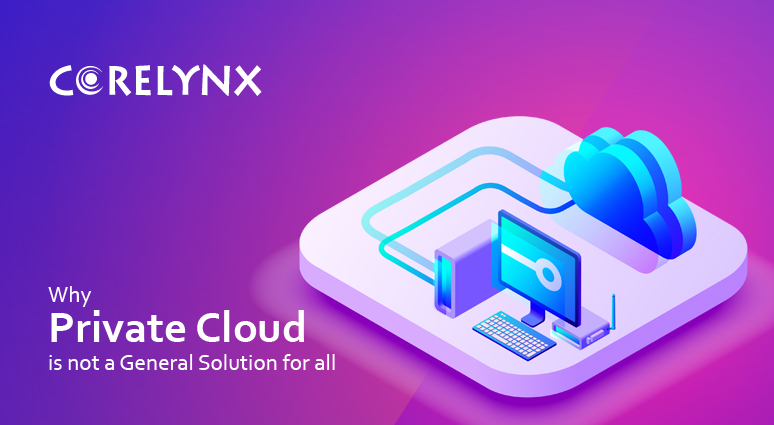 Posted by Paul Anderson
Why Private Cloud Is Not A General Solution For All
There is a general consensus that private cloud adoption is going to drive the trends in the coming days. This has been influenced by public cloud concerns – lack of security, limited control over data, future costs etc. A large number of enterprises are now inclining towards owning their own virtualized platform where they can exercise better control over the information stored and shared. But often it has been seen that private cloud fails to deliver the services expected of it. That is because it is not a generic solution and not appropriate for every business model.

Success of private cloud adoption varies from one situation to another and in many cases fail to deliver intended results. This article has discussed the reasons why a private cloud model isn't always the right choice.
First off, building a private cloud is a laborious and expensive process. It involves many steps including acquiring and installing hardware and networking system. You would need to build your personal datacenter if you don't own one already. Further, virtualization software needs to be installed on top of the hardware to create the cloud environment. All these require extensive professional expertise and knowledge. If the in-house team is not capable of handling the task you'd need to hire services of cloud computing consulting firms, which would increase your costs further.
Achieving full potential of cloud computing namely – flexibility, scalability and agility in a private cloud environment would involve huge investment in hardware and infrastructure. You'd need to anticipate the optimum use of your cloud to plan the infrastructure accordingly. Or else, the risks remain for either overutilization or underutilization of resources.
Next you need to remember that you'd still incur expenses on infrastructure management and maintenance. Unlike in a public cloud model where infrastructure is provided and managed by the service provider the firm will be responsible for maintaining and updating its private cloud setup regularly and for that, they would need the support of a fully-functioning IT department.
With private cloud you have no choice but to move all your enterprise applications to it without testing their compatibility in a virtualized environment (you have big investments in building it, right?). But with the public setup you can exercise discretion in hosting only selected applications – resulting in better management and performance.
Private cloud is expensive to build and maintain. It involves huge capital investment at the initial level as well as over its lifetime. Moreover, you'd still need an IT team to manage the systems for you. So, instead of reducing your IT expenses it can inflate it manifold. It limits options for updates and availability of new services for developers unlike public cloud.
Companies that already have made huge capital investment in building a self-reliant IT infrastructure for virtualization can augment IT usage from constructing a private cloud environment. But companies with limited IT budget and those looking to cut back on IT expenses are not likely to benefit equally from its adoption.
Further, public cloud based technology providers continuously evolve their services to offer improved user experience in their environment and to keep them engaged for a longer period of time. The biggest concern over data security has been addressed by them by introducing advanced level security layers. The advantage of being in a multi tenant system is that all these benefits are made available to all the clients without any substantial increase in their expenses.