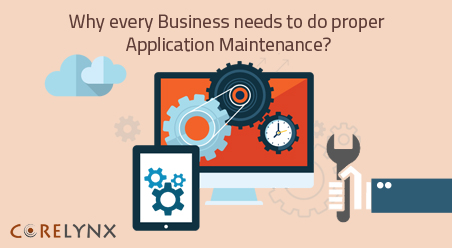 Posted by Paul Anderson
Why every Business needs to do proper Application Maintenance?
This is the hyper-competitive market where things change at a breath-taking pace. To grow in this dynamic scenario, businesses (big, medium or small) try out different attempts to gain a competitive advantage over their competitors. While some attempts succeed and some do not, there is one way that definitely guarantees any business a sure success!
The use of robust software solution!
In experts' opinion, the best ways a business can improve its competitive position in the marketplace is by the use of various software solutions that remove the bottlenecks of the process, streamline and automate it and ensure a seamless collaboration throughout. This is the reason why, more and more businesses invest so heavily on cutting-edge software solutions.
However, is one-time investment on software enough?
With technology progressing at such a rapid pace, newer solutions come up frequently with more advanced features than existing ones. So does it imply that businesses should keep replacing their present software solutions with newer ones? Certainly not!
Replacement of existing solutions requires both time and money, which is not viable for most businesses. That is precisely why experts strongly recommend the option of software maintenance.
Application Maintenance
''It is the process of modifying a software system or component after delivery to correct faults, improve performances or other attributes, or adapt to a changed environment."
– IEEE 610.12 Glossary of SW Engineering
Application maintenance and support is considered as an essential component of software development; which is why many software-based companies have included it in their IT infrastructure Management service offerings.
Categories of Application Maintenance
Renowned software development companies offer application maintenance services through the following ways:
1. Perfective Maintenance
Perfective Maintenance procedures are implemented during the custom software development process itself. Software developers understand the business requirements and develop and deploy solutions to suit these needs perfectly. Doing this brings about great benefits for the businesses as the software is tailor-made to their specifications in order to best serve their needs.
2. Adaptive Maintenance
Often it is seen that after businesses deploy software solutions, it takes some time for the software to get adjusted in the work process. To ensure that this happens smooth and quick, adaptive maintenance processes are implemented. Once this is done, software solutions implemented by the business are able to function optimally in the new environment.
3. Preventive Maintenance
As the name suggests, preventive maintenance techniques are performed to ensure that the business functions uninterruptedly and does not come to a halt due to software downtime. Preventive actions improve software reliability and decrease the chances of future problems within it.
4. Corrective Maintenance
After prolonged usage over a time period, software solutions develop errors or break down. To tackle these, corrective maintenance procedures are performed. They completely resolve the software limitations or defects and make them capable to function properly and provide better result to the business.
5. Incident Management
Incident Management practices are implemented for effective resolution of software malfunctioning. They identify the specific bugs which caused the malfunction of the software; take steps to resolve them and reinstate the solution back to its optimal functioning.
6. Application Upgrade
Software companies do upgrades of existing software solutions to extend their lifespan. They introduce new coding or simply modify existing coding within the solution to add more features into it and make it more robust.
Conclusion
Software applications help businesses gain a competitive advantage in the marketplace. However, if not properly maintained, these applications can easily impede the functioning of a business. To ensure that your software applications continue to be an asset for your business, choose Corelynx as your IT infrastructure management partner.
We hold specialization in software maintenance and support and are adequately qualified to maintain and leverage your software tools and minimize your operational halts due to software downtime.
Interested but have questions regarding outsourcing IT security infrastructure? No issues. Please feel free to leave your comments/questions below. Or you can also contact us here. Thanks for reading!