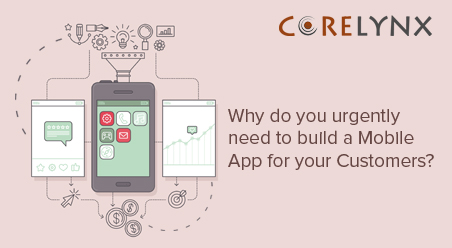 Posted by Paul Anderson
Why do you urgently need to build a Mobile App for your Customers?
When you have statistics claiming that on an average, people spend 40% of their day occupied on their smartphone, does it ring a bell in your business mind?
Because, ideally it should. Smartphones is the new area which you can capitalize for your business. And just in case you think that mobile trend is only for the hot shots of the business industry – think again. Or better – Google and find the number of businesses who have opted for mobile-based custom application development.
You will be surprised to see the numbers. In fact, not just that. If you go into the details, you will find many small and mid-size businesses having mobile applications for customers.
And the benefits that they are getting from it are galore. Do not believe? Read below:
Benefits of having Mobile Applications for Customers
1. Better Marketing
According to industry analysts, the main factors that encourage buyers to engage with brands through mobile apps are :
Product/Service Details
Special deals
Discounts
Coupons
Exclusive mobile app services.
That is why, more and more small businesses are using mobile apps as a 'Marketing channel'. Right from product and service description, features, benefits and cost to even booking forms and discounts- SMBs (small and medium-sized businesses) are including it all within their mobile apps.
Due to which, buyers are having a detailed information about the business and its promotions right at their fingertips. The effect of this is great!
Because by having the product details, deals, discounts and coupons in the phone app, it pushes customers to make the purchase right away.
2. Frequent Client Communication
Mobile Apps have given businesses the chance to interact with their customers and buyers more frequently. Example – Mobile technologies like GPS and geo-targeting have become an instant favorite. Using both of them, businesses are detecting the locations of their clients and reaching out to them, whenever clients are entering locations that have their stores. How cool isn't it?
3. Well-timed Content Delivery
In a world, where businesses are struggling to deliver proactive service – mobile apps have come as a boon in disguise. Why do we say that?
Analyzing the clients behavior within the mobile application, SMBs are finding it easy to anticipate the needs. Based on which, they are delivering marketing and sales resources to the customers – at the most right time.
Example: If a business is finding its customer mainly browsing through the 'Special Promotions' section within the app, then proactively they are creating and promoting more attractive offers to clients. The objective is obvious: to take them closer towards purchase.
What do experts say?
Well-timed content is not just helping in immediate sales but playing an active role in developing deep customer loyalties too.
Example: By consistently providing well-timed content to the customers, businesses are earning respect. That is because, customers are looking upon these businesses as those who notice their needs and take care of them in genuine. Over a period, these customers are bound to respond to these businesses with loyalty, trust and positive word of mouth recommendation.
4. Repeat Purchase
Making customers do repeat purchase is essential. And the best way to do that is through mobile applications.
According to a Survey – businesses whose mobile apps have a highly intuitive interface, tailor-made dashboard and offer enhanced personalized user experience, make great repeat sales. That is because, customers today prefer buying experiences to be easy, smooth, quick and personalized; which is why they prefer shopping through these apps, repeatedly.
And to make purchase via apps seem more attractive, businesses have digitized their loyalty programs. They have enabled customers to collect their rewards via mobile apps too. So now whenever customers are making purchase via apps, they are getting instantly rewarded through in-app loyalty programs.
The result? More sales and more return customers!
5. Brand Recognition
As per advertising rules, the more often customers see and hear about a brand, the sooner they get inclined towards it. And that is exactly what mobile applications help to do. It greatly contributes to a brand's awareness by making the business come in front of the target customers repeatedly.
That is why, most small businesses have made their mobile apps well branded and beautifully designed. The objective is to make the apps stylish and informative, to encourage faster customer engagement.
6. Great Customer Support
Mobile apps have empowered businesses to fulfill the greatest demand of the customers – 24/7 service. Majority of the SMBs have developed in-app feedback forms to enable customers provide their complaints from practically any location and time.
This has completely simplified the service experience and made it easy and fun for the customers. With just a few clicks on the smartphone – customers are able to post their query/complaint, track the status of the complaint and receive the solution at the shortest interval.
The same applies for the businesses too, who are able to track – customer complaints inside the app; how many of them have been answered; and how many remain open.
In short – apps have enabled businesses to create a full mobile experience for their customers and cater to their needs/problems super fast.

Conclusion
In spite of having website banners, Facebook and Google ads and email marketing — it is nothing else but mobile applications that give you the power to develop a true and sincere connection with your customers.
So do not delay any further. Hire an experienced custom application development agency holding proficiency in mobile app development.
Why do we say that?
Obviously, because you will not be spending dollars on building your mobile applications time and again. It will be built once (with regular future updates) and you need a good agency to do that!
Confused how to go about this? Do not worry.
Tell us in the comments below – how and when do you plan to start your mobile application development, and we will guide you accordingly.