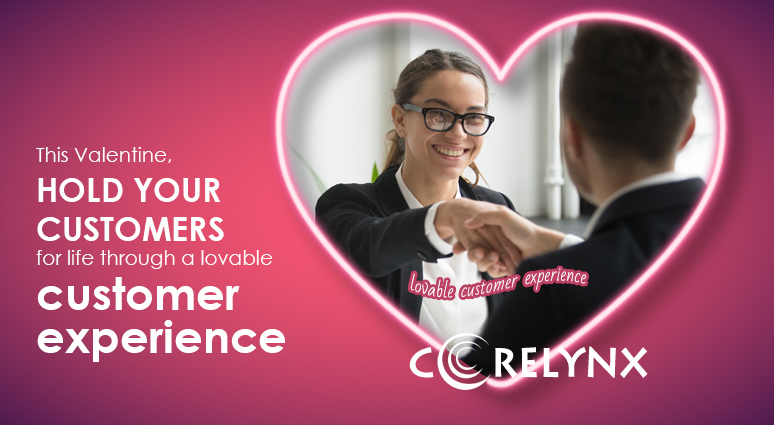 Posted by Paul Anderson
This Valentine, hold your customers for life through a lovable customer experience
Any business that aims to achieve long-term success must first understand the importance/value of having a lifetime relationship with a customer. Then only can the business shift its focus from individual transactions (making a buck in the short term) to building trust that will undoubtedly pay off and realize opportunities never imagined.
Chris Zane founder and owner of Zane's Cycles in Branford, Connecticut, recalls one of the incidents describing his approach towards building lifelong customer relationship –
A customer came to our store to return a bike tube. He complained that the tube had a hole in it. Looking at the tube, I understood that it was created by a screwdriver. It might be that accidentally he punctured the tube when he was changing a tire. Instead of owning up to it, he said that we had sold him a defective tube. I handed a new tube to the customer and thanked him for bringing the defective tube to our attention. He looked at me, smiled, and said, Wow. Thanks.
My employee asked why I handed a new tube when it was evident that the customer lied. I reminded the employee that by doing this, we have built up a connection with the customer. Throughout his lifetime he will stay with us and his lifetime purchase could be around $12,500 at our shop. Considering this, giving away a $6 tube isn't even worth a second thought.Any business that is not operating along these lines is playing the game wrong. Many might say that it's not always easy to think this way – agreed. And that's why it's quite obvious to push back if you feel a customer is asking for too much. However, it's important to constantly remind yourself, and your team, that your aim is to capture the customer's lifetime value.
Lovable customer experience translates into lifetime customer retention!
How can you deliver a lovable customer experience to retain your customers for life?
1. Provide Superfast Support
As customers we all love fast, efficient service from a company and the same applies for others too. According to a recent study conducted by Forrester Research over more than 7,000 US consumers, 71% said that they preferred companies who valued their time. In their words – "Instant support was the most important thing that a company could do to provide good customer service". With this figure in mind, you can say that a fast support resolution makes the whole customer experience satisfying and impressive.
What we suggest?
While there are a number of tools (we recommend: CRM software solutions) and secrets to providing fast customer service, however none of it will yield results if implemented with lack of training. It's important that your support agents understand the tool backwards and forwards (probably better than the guys who made it).
Then only will they be able to offer a solution within seconds, whenever a customer case enters their queue.
2. WOW your customers
Time and again going above and beyond the call of service to make a customer happy is required. So whether it's an unexpected product discount or a surprise gift – customers love to be pampered with these acts of kindness.
Make sure to talk to your customers in a way that feels natural and fun to them. Aim to make your customers feel comfortable so that they never have reservations about contacting you. Establish a company culture and promote and encourage it – that if something ever goes wrong with an order, 100% your company will take care of it. This is how you can provide moments of wow to your customers.
3. Deliver Seamless Multi-Channel Experience
Imagine if you have to repeat a conversation with different customer agents on different support channels for resolving one issue? Sounds irritating? Your customers feel no different.
You can say that the growth of multiple communication channels especially social media has decreased customers' patience. Today, customers expect to converse in one support channel and continue it in another without having to repeat their problem.
What we suggest?
Invest in a multichannel CRM which makes every channel touchpoint enabled with customer information. This will result in increased customer acquisition, satisfaction, and retention. Multichannel CRM holds customer cases from various channels into one unified database making it easy for the support agent to understand the work at a glance. Customer information and past orders are also available within the app to provide a comprehensive view of the customer background.
4. Render Personalized Experience
While the trend of buying from a mom-and-pop store around the corner has diminished, the need for a personalized experience is still there. Different surveys have found that customers still crave that human touch of being known by the businesses they purchase from. And this is precisely where most businesses fail to make a mark.
What we suggest?
Empower your agents with the right tools such as Customer Relationship Management App. Doing so will provide them with past interactions/order history of all the customers. Inevitably, this will help the support agents be more engaging and deliver a personalized experience.