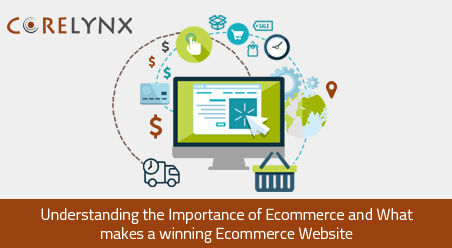 Posted by Paul Anderson
Understanding the Importance of Ecommerce and What makes a winning Ecommerce Website
Business trading through the Internet or what we colloquially call Ecommerce has been around the globe since mid 90s. However, things have taken a strong momentum in the recent few years. Local and global entrepreneurs from every field have diverted a large part of their focus on building ecommerce portals.
This begs the question: why has ecommerce become an important element in the commercial market nowadays?
Jennifer Recktenwald comments –
"Today's competitive business world demands an online presence. This is particularly true if businesses wish to reach customers who are otherwise not possible to reach through traditional retailing. The early pioneers (eBay and Dell) who have listed their products and services for sale online have really hit the bull's eye. Customers have got hooked to these sites and have enormously enjoyed the benefits and ease of being able to browse products on e-commerce marketplaces from the comfort of their homes.
The sales revenue of these companies has literally skyrocketed, that has driven the desire of ecommerce solutions among the large and small enterprises across the world."
Forrester Research states:
"Ecommerce has become more important than ever for businesses to stay afloat. It won't be an exaggerated statement to make that businesses can lose customers or revenue by not maintaining an online presence today."
In U.S. itself, B2B e-commerce has grown to $2.7 trillion by 2014.
The projections from the research firm shows that companies far and wide have forayed into the e-commerce world. So it's likely that the companies are reaping the rewards too?
Well, the answer is NO.
Ironically, CMO Insight has come up with a report stating that the revenue of the ecommerce companies has been below the expectations. And somewhere this dwindling figure has made the other companies (planning to roll out ecommerce solutions), skeptical too.
Now if ecommerce is the call of the moment, why are the companies who are providing ecommerce solutions not experiencing the desired success?
Steve Swoffer explains –
"Wile ecommerce is on a high pedestal of popularity and demand; it will still take time to completely eclipse traditional retailing. A large percentage of companies are not being able to improve conversion rates through their online market solutions. The reason is: below par Customer Experience (CX)."
Let's imagine: You are trying to buy something online and then suddenly the website slows down, buffering starts, and your entire progress falls apart. What do you do? In most occasions, you simply search another online retailer who can cater to you in a quicker way.
Well, this is precisely what majority of consumers are doing. Although majority of companies have jumped into the bandwagon of ecommerce, they've failed or should we say, failed to plan a well thought and well executed e-commerce strategy.
What companies have not understood is that:
Today's consumer demands a seamless online journey across the various digital platforms. Hence it is crucial for them to make the customers' journey easy and pain-free so that customers do not disengage from the process and go elsewhere.
Kate Maddox, co author of Web Commerce: Building a Digital Business, comments –
"The most successful businesses will be the ones that capitalize on Net marketplaces, which bring buyers and sellers together to transact business in a smooth and content-rich environment."
Fundamentals of Ecommerce Web Development
Implementing a successful ecommerce website may seem difficult to many but the route to achieving this is way easier. Mary Shacklett has pointed out 10 essential fundamentals in her report on Ecommerce Web Development.
Here's a quick glimpse on those:
1. WAN monitoring and ISP network switching capabilities
As discussed, slow response times are a leading cause of customer shopping "abandonment''. To tackle this predicament, WAN monitoring and ISP network switching capabilities are required. They redirect the website traffic when it gets affected in certain areas. In this way, companies can be rest assured of providing a consistently good end-user experience to a global market of customers.
2: Quick website load times
Ideally, ecommerce website should load within 5 seconds. If the website takes more time, then customers switch over to another online retailer. Hence excessive of videos, graphics and photos should not be integrated in the ecommerce portal. All of these (though appealing), increase the overall loading span of a website.
Also it's seen that ecommerce websites clogged with an excess of graphics, videos, and complicated links don't quickly get customers to what they're looking for. Customers take time to understand and use the site that compels them to abandon the site totally.
3: Responsive Design
The presence of mobile devices is ubiquitous today. Companies who underplay this fact harm their revenue in the long run. For this reason, it is imperative that during the time of ecommerce web development; the website is made responsive enough to get smoothly accessed on a wide assortment of mobile devices.
Mary Shacklett quotes – "Web applications should be pared down even further for use on mobile devices, which have smaller system footprints than laptop or desktop computers. If you are deploying your e-commerce site for use on an assortment of mobile platforms, be sure to perform user acceptance testing for each device you are deploying to."
4. No broken links Broken links
in any site are poor reflections of the company. And with ecommerce portals, broken links straight way hampers the sales and revenue part. Customers get a negative impression and the critical question pops up in their mind:
Should they do business with you?
Final Thoughts
It's no longer enough to have an ecommerce site available. The website needs to be properly designed, developed and maintained to make it accessible, visible, aesthetically appealing, and easy to use. If any of these factors is missing, it'll not take a moment for the customers to budge to any other channel. And no company can afford this because: the risk of losing sales and customers is too great when competition is just a click away.