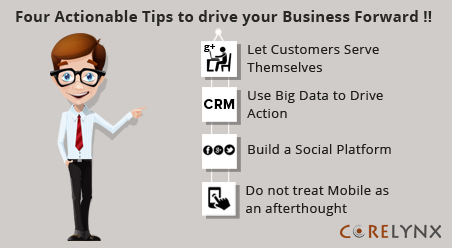 Posted by Paul Anderson
This Year drive forward your Business to New Heights
In this hyper-competitive business landscape – you got to be thinking (both tactically & strategically) about how your business can be better. If you don't very certainly you will lose out your competitive edge.
What we provide you here is an opportunity to grow your business in four different ways. With 2015 gradually unfolding – it's the right time for you to go through these actionable tips and drive your business forward.
1. Let Customers Serve Themselves
Several studies suggest that if given a choice, customers choose service quickness over service delightfulness. And it's a consequence of this that majority of customers prefer resolving their issue by themselves.
In view of this fact, it's prudent for companies to invest in functional self-service portals. Mind you self-service portals cannot be substituted with general FAQs present in every website. Rather companies need to be more specific and profound in creating a vibrant platform for discussion and knowledge-sharing.
In this way, customers proactively can resolve their issues (whenever convenient) and additionally can share information among them. Not only will this ensure much better customer experience, but foster engagement within your community. Plus, participation in the discussions can give your team the much-needed insights about units of improvement.
2. Use Big Data to Drive Action
Big Data is the second most used buzz term. But do you want to keep it to that or actually derive value from it? If your answer is yes to the second question then ACT now and implement the new-age Enterprise Software Applications like the CRM. These applications are designed as such that break the informational silo and put crucial business information right in your hands, dramatically increasing the value and accuracy of your business decisions.
With all the key business metrics and important insights – you are enormously empowered to create actionable steps and make your business better in no time.
3. Build a Social Platform
Social Engagement is the call of the situation. Be it your employees or customers – all of them are highly engaged in their own personal social media networks. Capitalize upon this fact. Establish a social business network which brings together your employees, partners and customers in one common podium.
Be it answering to a customer reply, sharing ideas/best practices with partners or simply uniting with customers & partners over a few common gags – collaboration will be on the heights and your business will be the one that benefits the most out of it.
4. Do not treat Mobile as an afterthought
Establish a Mobile-First Mindset or else you'll be losing out tones of customers in the upcoming years. In all likelihood, your employees and customers are already a part of the mobile phenomenon. And if even now you do not make your business mobile – chances of success can be very low in the future.
So contact business application development service provider and quickly build engaging apps that run on any device. Just ensure that your apps are dynamic, integrated with robust components, and has highly responsive features for tablet or smartphone view.