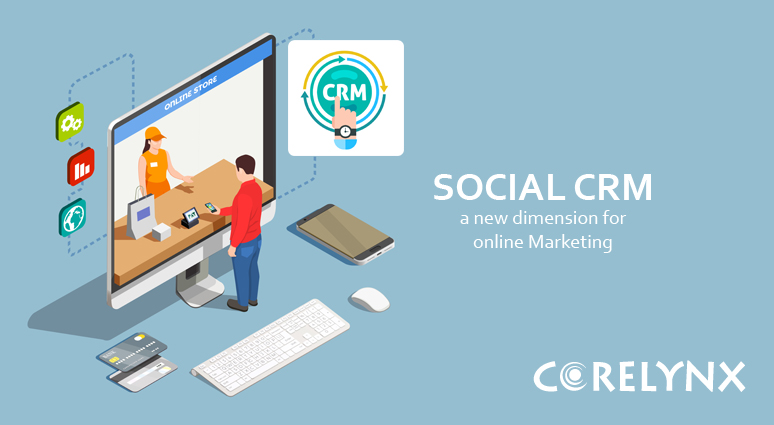 Posted by Paul Anderson
Social CRM, a new dimension for online Marketing
Social media is currently shaping the future for enterprises. An increasing number of companies are now training their employees to become social media experts so that they can promote their companies on these social channels and become brand ambassadors. Social media have opened new avenues for online marketing and giving opportunities to brands to interact directly with customers. Gartner Hype Cycle predicts adoption of social media to CRM as one of the fastest growing trends of enterprise sales application with 25% of the companies using customer management software adopting social CRM (SCRM) by 2017. Companies are to integrate social media to their workflows to ensure consistency with customer management. The potential of social media can be measured from the fact that about 60% of American population use social networks to communicate with brands.
Sales persons all the more will need the support of social CRM as it will help in identifying effective ways to find relevant opportunities and eventually result in more sales. But in order to become effective it will need successful integration to the sales process.
The term SCRM is now linked with a wide form of communication platforms that help businesses in managing communities of internal users, customers, partners etc. As a result, the essence often gets diluted and a large number of CRM software providers that offers SCRM solutions are actually offering service of collecting social media content for their clients without applying intelligence in doing so. This can affect the effectiveness of the system and present a wrong picture.
Why the companies are using SCRM for
As more and more brands are adopting SCRM it is obvious that they are deriving certain advantages from it.
Identifying right social action:A brand that is trying to build its social presence needs to know that its social activities are rightly targeted. It needs to make sure that its action is finding the right customer and therefore a constant monitoring system needs to be placed.
Tracking right customers: To learn who's talking about their brand companies will need an effective filtering policy that separate relevant customer information from irrelevant ones so that the company can acquire relevant knowledge about customers' preferences.
Build better relationship: Modern companies aspire to forge strong and long-term relationship with their customers. Social media has allowed brands to become more interactive and now that can be achieved through the information amassed by SCRM. This has helped companies to know what customers are thinking about them. Effective SCRM can support your business through real-time data on customer feedback and reaction. It can further promote faster customer response and foster stronger engagement and loyalty.
By adopting social CRM one can tap into the trove of information getting generated in social media regularly. This helps marketers in knowing what's working for them and what's not. The information gathered can help them in identifying right groups and markets and help in engaging them in better ways. But adoption of SCRM to your business environment would need a strategic approach. It isn't merely a technology or a process to collect data.