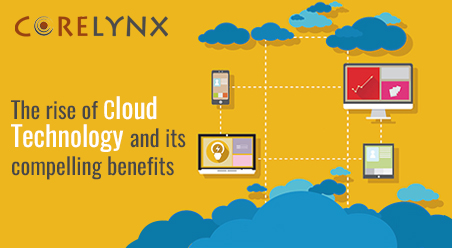 Posted by Paul Anderson
The rise of Cloud technology and its compelling benefits
Cloud computing has come a long way. The concept of a 'server in a remote data center powering the application' has been met with confusion, initially. However, with time, the whole superficial complexity about 'what is cloud computing' has been cleared. It has been realized that cloud computing is nothing but computing based on the internet. And surprisingly, it has been comprehensively used for long. Facebook, Emails, Net banking and a bunch of other similar apps are all living examples of cloud.
However, biggest concerns about cloud computing have been security and privacy. Business entrepreneurs and corporate executives have hesitated to switch to cloud computing system, fearing – "Will the data be safe?" Running applications from software downloaded on a physical computer or server in own building has seemed to be safe, considering the company's information is under lock and key.
To tackle this, most renowned cloud service providers have employed advanced techniques to protect their clients' data. Unlike traditional computer security that only prevents unauthorized access to machines, cloud vendors have provided three layers of security:
Physical security (data centers)
Logical security (firewalls to prevent security breaches)
Data backups and encryption.
Cloud vendors have appointed third-party firms to do a thorough security assessment of their cloud offerings and even allowed clients to conduct their own high-level audits. It's a result of these reliable security measures that overarching concerns about data security and privacy have been finally put to rest. And now what we experience is the upsurge of Cloud Computing!
The unprecedented rise of Cloud Computing
Cloud Computing has now become the default way for businesses to run their applications. Statistics that mirror this matured view of businesses towards cloud are as follows:
68 percent of enterprises run a fifth of their application portfolio in the cloud
55 percent of enterprises have significant portion of their application portfolio built with cloud-friendly architectures
90% of businesses (in UK itself) have developed at least one cloud based application.
Gartner, Inc (technological research and advisory firm) has released a news statement, forecasting a stupendous growth of cloud computing this year –
The worldwide public cloud services market is projected to grow 16.5 percent in 2016 to total $204 billion, up from $175 billion in 2015. The highest growth will come from cloud system infrastructure services (infrastructure as a service [IaaS]), which is projected to grow 38.4 percent in 2016. Cloud advertising, the largest segment of the global cloud services market, is expected to grow 13.6 percent in 2016 to reach $90.3 billion.
"The market for public cloud services is continuing to demonstrate high rates of growth across all markets and Gartner expects this to continue through 2017. This strong growth reflects the shift from legacy IT services to cloud-based services, due to increased trend of organizations pursuing a digital business strategy", – Sid Nag, research director at Gartner.
Cloud application services (SaaS) is forecast to grow 20.3 percent in 2016, to $37.7 billion. As software vendors shift their business models from on-premises licensed software to public cloud-based offerings, this trend will continue. In addition, the entry of some major software vendors into the public cloud last year will fuel growth of the SaaS market moving forward.
These compelling statistics prove that cloud is the new standard for business operations. But while companies have moved to cloud as the most commonplace technology choice for software, what benefits do they experience? In what follows is the list of the best advantages of using cloud based solutions.
Benefits of Cloud-Based Applications
1. 100% seamless growth
Scaling in traditional legacy architecture is tedious and costly as companies are required to permanently purchase larger servers which successfully handle peak user numbers but remain underutilized most of the time. Cloud architecture allows to programmatically spin-up additional resources to accommodate the load whenever performance threshold is crossed. Once traffic retreats to normal loads, the system automatically scales back down. This level of agility is ideal for businesses with fluctuating bandwidth demands where they only pay for the additional capacity whenever used.
2. Fast software updates
While updates to on-premises software can take as long as months, cloud solutions empower companies to deploy new updates in every few seconds. The servers are off-premise and looked after by cloud providers. So companies don't waste time maintaining the system and easily focus on rolling out regular updates and adding new and valuable capabilities to their applications. This ability to make fast updates and changes is powerful as companies become much more fluid, adaptive, experimental and competitive in nature.
3. Cost Savings
Cloud applications significantly reduce IT costs of a company in five ways:
Economies of scale
Cloud computing brings natural economies of scale by using the minimum amount of physical IT resources to serve a maximum level of IT resource demand. Server infrastructure is shared to cater to multiple companies' computing needs that ensures optimize utilization of hardware and empowers businesses to handle peaks in workloads at a lower cost.
Zero Capital-expenditure
Cloud computing involves quick access to application with minimal upfront spending. What does that mean? Reduced technology infrastructure expenditure and operational overhead. Companies convert their capital expenditures into operating expenditures. The money invested in purchasing, maintaining and upgrading hardware and software is allocated to new strategic projects.
No requirement of hiring IT staff
There is no need to take on specialist IT staff that run the servers, upgrade hardware, deal with downtime and handle sudden spike in workload as it is all taken care of by cloud hosting providers. Companies free their existing IT resources from time-consuming chores of maintaining the servers and shift their focus to building the business.
Reduced power costs
In-house servers not only take up valuable data center floor space but also consume large amount of power and cooling resources. Cloud computing ensures optimum hardware utilization that results in more efficient power use. As a result, companies that use cloud based solutions pay less for energy than what they would spend earlier on own data center.
Data redundancy
Cloud caters to data redundancy requirement in a cost efficient manner. Quoting the words of Jeff Norman (expert on cloud computing)– "With cloud based applications, there is no longer a need to construct a pricey "high available redundant system," as one would need to do with a traditional IT operational system." Cloud providers have several locations for their data centers. They fulfill the redundancy requirement by replicating data on multiple computers or units. This ensures that if any one unit has an issue, the other can seamlessly take over.
3. Flexible working
Accessing cloud based applications require just an Internet connection. This serves to be a great boon for cloud users as they are not tied up to their office chambers and can actually work from anywhere, from any internet-enabled device they've got at hand. This flexibility lets them enjoy the work-life balance without productivity taking a hit.
4. Increased collaboration
Cloud systems provide 24/7 access to data which fosters faster collaboration. On the road, between the floors or at the airport, employees stay fully connected to the office with real-time data in the palm of their hands. Marketing and Sales agents benefit the most from this aspect as they use shared cloud data to generate leads and close deals. Support teams have complete, detailed information to deliver personalized, rich and engaging experiences to customers from practically any location and time.
5. Document Management
Cloud based applications help in executing watertight document control. Files, collaterals, brochures, presentations and case studies get stored in a centralized and readily accessible repository. So right from HR to Finance to IT, all can directly access the latest versions of the files from anywhere, update and save them back in the cloud application. This prevents any discrepancy in contents and results in better work and improved productivity.
6. Competitive Advantage
This is the digital world where customers only opt for brands that offer a smarter and more connected experience. While the large-scale enterprises have the cash and expertise to deliver this, it is a real challenge for the fast-growing small and medium businesses. And this is precisely where cloud computing comes into the picture. It enables SMBs to get access to enterprise-class technology at a shared cost. With cloud, smaller businesses become lean and nimble and act at par and most often faster than their big, established competitors.
SMBs use cloud solutions to connect the entire company together and get a comprehensive view of all customers. This critical insight empowers them to provide a consistent and seamless experience to customers at every touchpoint.
Conclusion
For decades, on-premise systems have chained businesses by engaging most of their time and resources and preventing them to focus on value-driving projects that bring growth and expansion.Cloud technology has come as the savior!
Adaptive and agile by nature, it has brought speed, innovation, and connectivity to make businesses connect apps, data and services together and increase efficiency, improve cash flow and create enhanced customer value.
Businesses who haven't moved to cloud have multiple compelling reasons to make the switch. However, this should not be done hurriedly. Whether it is migrating an off-the-shelf package or developing a new cloud application from scratch, both require the services of professional cloud based software companies that hold expertise in cloud computing and ensure to make the move to the cloud – a seamless one.