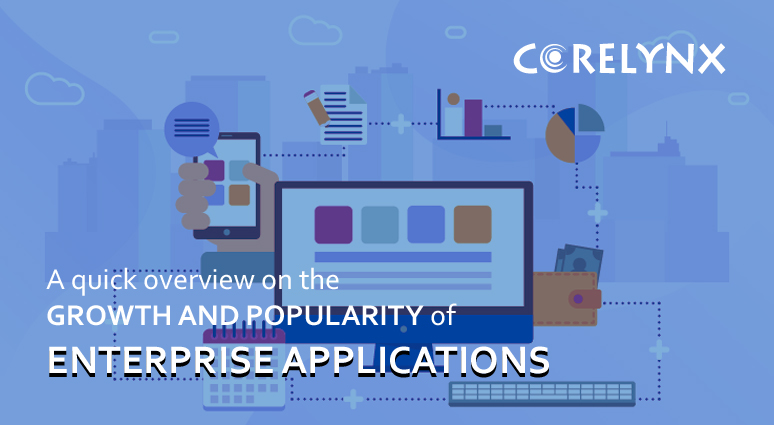 Posted by Paul Anderson
A quick overview on the growth and popularity of Enterprise Applications
Massive technological advancement and concentrated business processes have led business owners look for smarter business ownership and management solutions. One of the leading examples of this trend is the widespread adoption of Enterprise Application Software (EAS). The idea of integrating enterprise applications is for a smoother business process, higher transparency and faster implementation of work policies.
Popularity of Enterprise Applications
According to a few professionals, the demand of enterprise applications has increased in the past five – ten years. Well, I disagree to say so. If you study the previous years, reports show that Enterprise Application Software got momentum in the 1990s. Large scale enterprises started making a move towards different enterprise software packages for better alignment of their work departments.
Here's a brief synopsis to a few of the startling facts:
2005: Approximately 80% Fortune 500 companies have integrated ERP
2009: Enterprise Software Applications amounted to $244.3 billion
2012: The total amount increased up to $315 billion (an increase by 9.4%)
Why is Enterprise Application Software important?
Having discussed the popularity of enterprise applications, let's look at the reason behind it – what makes Enterprise Software Applications – the need of every company!
Enterprise Application Software or EAS as most of us like to address it, is a software package designed for the comprehensive needs of an organization. It serves as a common repository for data that can be accessed by all departments. It helps streamline the different departments such as marketing, sales, manufacturing and finance to bring improved work efficiency.
Most companies face the difficulty of integrating several applications in their work process. There is always the possibility of the applications not getting synchronized with the existing work system. Enterprise application integration prevents the companies from these hassles. It combines several applications into an easy-to-use interface.
Evolvement of Enterprise Applications
If you look into the evolvement of enterprise applications, you will find how they were confused with complex software that required high budget and long implementation. However, the introduction of cloud computing platform has increased the overall value of enterprise applications. Today, enterprise applications have become an integral part of every organization. Moreover, with the help of the cloud technology, enterprise applications have become mobile too. Employees have the ease of accessing the company reports/records anywhere on the go.
has made a substantial contribution to enterprise mobility too. Imagine the next time your marketing official visits a client's site, s(he) can easily show the corporate presentation from personal iPad. With the cloud storage device, not only your officials but your corporate data too becomes mobile.
What lies ahead?

Well, like every other technological application that consistently evolves, enterprise applications also have a strong future growth. According to many IT executives, enterprise social networking/enterprise social collaboration is the future of EAS. The use of online social networks for internal and external communication is in the top agenda of most companies. As cited in one of the recent surveys, 75% of businesses will adopt enterprise social networking by the end of 2013. In the present age of Enterprise 2.0 and Generation F, it's no surprise that companies are banking on social networking skills for business purposes.