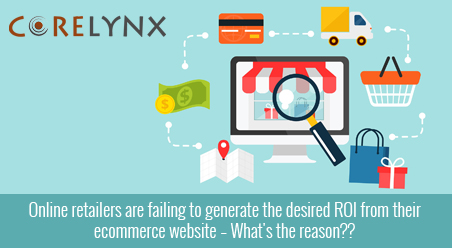 Posted by Paul Anderson
Online retailers are failing to generate the desired ROI from their ecommerce website – What's the reason??
Ecommerce has become an increasingly popular business model. However, many online retailers are failing to exploit this revenue channel. Let's find out why:
The onset of the 'Age of the Customer' has directly impacted the ecommerce realm as well. Just like the retailers of brick and mortar stores, the retailers of ecommerce marketplaces have experienced changed consumer buying behaviors. These digitally connected consumers have higher expectations than before and now demand nothing less than a seamless buying experience.
The challenge of meeting new Customer Expectations
The sudden change in consumer buying behavior and service expectation has put the online retailers in a soup. While most have not yet recovered from the blow, a few have devised strategies to tackle these new-age customers.
So have they been successful?
Unfortunately, delighting this new set of customers have proved to be no easy feat for these online retailers. All their repeated attempts have gone down the drain. The biggest testimony of this fact is the countless surveys and studies conducted that have explicitly shown dwindling customer satisfaction in online shopping experience. In fact, it's the result of this waning customer satisfaction mark that the total number of cart abandonments has shot up in the last two years.
According to Delta Marketing Group, in 8 out of 10 cases, high shipping costs, slow payment process, payment insecurity and poor checkout experience have not turned customers off. Instead, customers have returned because they have not found the shopping portal compelling enough to proceed till the final payment. These marketplaces have not been visually engaging and inspiring like their brick-and-mortar counterparts.
So does that mean retailers should expect high return rates from their online storefronts? Or is there is a light at the end of the tunnel?
Finding the Solution
Ecommerce, is undoubtedly a booming field. But while most retailers are grappling with their online storefronts, a few handful ones are flourishing and accomplishing new highs.
So what different have these retailers done? What changes have they brought in their online storefronts? Here is an expert analysis:
Personalized Shopping Experience
This is one USP common to all online retailers who have managed to rule the roost, even after the change of customer mindset. These retailers have incorporated different tools to offer customized and relevant products to customers and deliver personalized shopping experience that encourages visitors to return. The business of these retailers built on the principle of personalization has grown by leaps and bounds in the ecommerce industry.
Quoting the words of William Manziel – "We have entered into an omnichannel ecommerce industry where customers demand a more relevant, intuitive, and inspirational customer experience. They expect shopping to be interactive, personal and engaging in several ways. So personalization is the key to success in the ecommerce industry.
And the ecommerce websites that have achieved it are successfully gaining market traction. They have experienced increased brand engagement, improved conversion rates and better customer retention. It wont be wrong to say that personalization is definitely the differentiating factor and retailers are missing out on a major portion of revenue by failing to deliver personalized experiences."
Road map to deliver Personalized Experiences
According to the research body Marketing Insights, the importance of personalization in ecommerce has been known to most retailers, right at the start of the Customer Age. But only some handful ones have gone ahead and delivered it. Others have not taken the plunge fearing the implementation process to be too overwhelming for the business to handle.
However, contrary to public opinion, personalization can be realized and delivered by the smallest of ecommerce startups as well. What is required is just the right road map and busting of some myths.
1. The use of right Technology
Online retailers opine it's costly and challenging to provide a personalized experience to each shopper. Considering the proliferation of channels, it is impossible to create the same experience for customers across each touchpoint and device.
This could have been a valid reason years back when technology had not progressed and dominated the business world. But today there are ample technologies in the market like CRM that automate and streamline the process for customer engagement. Having these platforms by the side, help companies to centralize and orchestrate all customer interactions in one repository.
Resultant of which, businesses achieve a 360-degree view of the customers, understand their preferences in detail, show the right content in the most effective way and provide proactive high quality and better managed personalized experiences at every touchpoint.
2. Display of relevant Products/Services
Retailers display all the available products on the site to encourage customers to buy more. Does that help? The answer is No.
Because customers do not get impressed by the assortment of the offerings but get turned off by the standard robotic approach given to all. So be it customer A or customer B – all get the same experience on the website. The store does not recognize the customers individually and does not give a hoot about their specific preferences.
To tackle this, it is imperative for ecommerce retailers to devise strategies on displaying customer relevant product and services only. So when Customer A visits the store, he should see products based on his browsing preferences and buying history. For this it is recommended to integrate ecommerce website with inventory system, CRM and asset management repositories.
The best ecommerce website developers understand this point. During the time of development itself, they connect the shopping portal with ERP, CRM, Inventory and customer analytic solutions to create a unified ecommerce system that delivers the desired results to the businesses.
Final Thoughts
With the empowerment of customers, online retailers are required to make their ecommerce storefronts agile enough to quickly adapt to rapidly changing customer demands. Picking up the right ecommerce website development partner holds a crucial role.
Because experienced service providers hold adequate knowledge to understand diverse business requirements and develop a customized online shopping portal that – attracts visitors and simultaneously empowers retailers to provide contextualized experience for return visits.