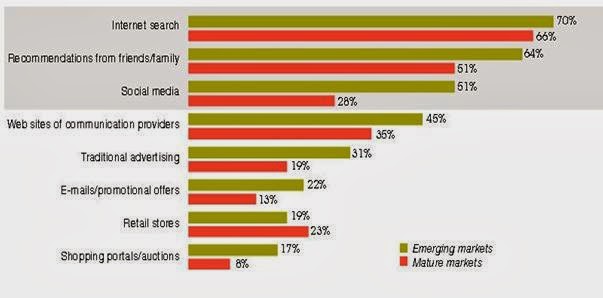 Posted by Paul Anderson
Let your customers do the talking!
Stage 1: Occasional purchase with an ambivalent attitude towards the brand
Stage 2: Regular purchase with a positive attitude yet a flaccid relationship
Stage 3: Regular purchase, holding a crucial role in the long-term growth of the brand
The afore-mentioned stages define customer advocacy courtship which can be used by a company to classify its customers.
Rise of customer-led marketing
The present state of things (I mean the economic turmoil and cut-throat competition) has compelled organizations to put their marketing and customer techniques under the scanner. Things have taken a flipside turn where the customers have been placed at the heart of all business initiatives. Accelerating this change further, has been the concept of Web 2.0 which has broken down the traditional communication silos. Customers now have a myriad of options (particularly social media) to interact and learn about brands. Inevitably, this has influenced their buying process, affecting brands' sales graph.
The below given diagram illustrates the different mediums used by consumers for gaining information about products and services. Internet search, recommendations from friends and family, and social media are the most popular and preferred sources of information.
Source: IBM Institute for Business Value Global Communications Consumer Survey
Experts have defined the changed equation of company-customers as a mutually benefiting courtship. It can only flourish when both the parties share values and receive benefit. While companies need to work upon their offerings and customer service, customers in return can talk about the brands across multiple channels: from video to social media and the press.
How effective can customer advocacy be?
According to a recent blog, customer advocacy has turned out to be the most effective piece of branding, much effective than influencers' program. This is because customer advocacy is seen as a more natural extension of brand message. As per the survey cited in the blog – Brands are 70% more likely to be seen impressive when endorsed by real customers. And a higher brand advocacy (12% on an average) generates a 2x increase in revenue growth rate and market share.
Based upon this statistic, it can be said that customer advocacy is directly equivalent to brand promotion which is equivalent to increased sales graph.
When a customer becomes an advocate?
A company can classify its customer as an advocate when the customer recommends the company's product/service offerings publicly. According to the expert, Daniel Bausor, in such a situation, the relationship between the company and the customer has travelled through the first two stages (refer to the top) to culminate into a mutually rewarding zone. In all likelihood, the customer has developed an emotional bond with the brand and hence, is ready to stand above the parapet for it.
Unquestionably, this benefits the company, speaking volumes to customer prospects and other audiences, better and effective than the old-fashioned one-dimensional printed case study.
Source: IBM Institute for Business Value Global Communications Consumer Survey
How to encourage and engage loyal customers to advocate your brand?
Locating customers who are satisfied and willing to talk about your brand publicly is half job done. To initiate their participation as advocates for your brand demands a well-defined engagement strategy.
Below enlisted are a few tricks you can use to implement customer advocacy in the right direction:
1. Endorsement techniques
Often companies commit the gaffe of asking too much from their advocates. Result – customers feel weighed down by the high demands. This is precisely why it is advisable to start off with small recommendations first. For instance, request to follow the brand on social media platforms or blog recommendations.
Experts recommend developing an advocacy strategy and making the loyal customers a part of it. In this way, they can understand –
Things to expect
Company goals
Their role in it
Overall, it is important to make the whole engagement program enjoyable and entertaining. With a fun, varied, and interesting environment, customers will be at a greater ease to participate and advocate.
2. Do not dictate
Always telling the advocates what to say about the brand can be a big turn-off. Understand that as your brand endorsers, they know exactly what to say and share. Allowing them to speak what's on their mind will make it sound more credible and convincing; which is why experts recommend letting advocates create their own messages.
3. Recognition and Acknowledgement
Time-to-time recognition of your customers' consistent contribution will do wonders. Not only will it build a positive brand/customer relationship but encourage your loyal buyers to make their voices heard. Remember, apart from good products/services, this is the second best thing you can do to acknowledge your brand believers.
Premium access to sales/discounts, corporate tours/personal meet with management, hand-written acknowledgement note is a few of the tactics followed by the big names globally. You too can consider any of these.
4. Advocacy Platform
The big players of the industry have resorted to enterprise software applications specially designed for advocacy marketing program. It is a dual-benefitting application where advocates get an update about the latest happenings in the company. Furthermore, brands use these applications to inform advocates about the forthcoming endorsement programs.
Surveys have shown that these applications play an instrumental role in advocacy program optimization. They help building a community of brand advocates, voracious to talk about the brand. Brands use it to get insights and thereby identify the most successful tasks. In sum, the applications help measure the success of the advocacy marketing program.
5. Prepare internally
It is advisable to dedicate a team of members especially for handling and maintaining the customer advocacy program. Most companies prefer members holding in depth expertise in influencer relationships and social media. Once the team is formed, develop a content plan for constantly fuelling the advocates with topics and upcoming product/service launches.