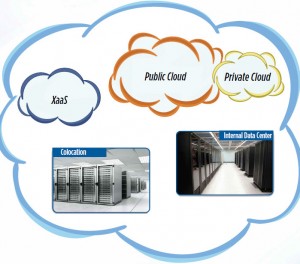 Posted by Paul Anderson
How safe is your cloud?
Few months back, The Washington Post released a map illustrating the places where Hurricane Sandy caused Internet connection failure. Annalee Newitz (io9 writer/creator/editor) made headlines when she wrote – "In the future, disasters will not just rob you of power and water; they can rob you of information as well."
Adding to this, she expressed her point of view over cloud which proved to be quite a help for businesses already/planning to move to a virtualized setup. According to her, the usage of the term cloud has turned out to be misguiding for many. She particularly emphasized the fact that – "There is no special place in the air that data can go and remain unaffected by life back on Earth."
Having read this, most of us might think it to be unnecessarily stated. The fact that cloud means storage of information in the air is out rightly nonsensical. Who can think of something like this (right?) Well, the answer is yes people have and still hold that belief.
In a survey conducted by CIO over a 100 small and medium-sized businesses using cloud-based enterprise software applications, most had ambiguous understanding about cloud. While they were all gung-ho about the benefits of cloud services, very few could answer to questions such as –
How protected their data is in the Cloud?
Have their cloud service providers taken adequate disaster recovery measures?
Terms like auto-redundant and 100% failover architecture appeared jargons to many.
What you need to understand?
The term "cloud" is simply a fancy name used to define web-based software applications, platforms, programs and storage. When Corelynx emphasizes upon adequate disaster recovery measures, we talk about regional disasters. Let's say if your office is affected by any local calamity, your data will be safe because it will be in our data center outside of your area.
This is precisely the context in which the term 'cloud' is used i.e. storage of data in a datacenter which is not floating in the sky, but is outside of your area and is therefore away from local calamities.
Data center downtime
Suppose, the remote data center in which your data is stored is affected by the same calamity which your office has – What will be the outcome? Data downtime
And not only global disasters, data centers can face issues due to several other reasons.
According to a recent blog – factors like hunters and squirrels have caused issues for data centers. Do not believe? Here are two astonishing facts –
In 2011, 17 percent of all of Internet service provider Level 3 Communications' cable damage have been caused due to squirrels. In fact, reportedly, Yahoo's Santa Clara data center faced a downtime due to a squirrel.
In Oregon, Google was compelled to bury its aerial fiber lines underground because of the bored hunters who were regularly shooting down Google's fibers.
In addition to these, factors, namely, poor equipment, building designs and human error have also caused damage to data centers.
How can you ensure safety of your data?
While there are a number of things that can cause data center downtime, you can take steps to ensure that your data remains safely stored in someone else's data center.
Mirroring the data into multiple data centers
Every renowned cloud service provider offers the facility of storing client's data into multiple data centers located in geographically disparate regions. Under such a system, no amount of squirrels, hunters or different regional calamities can cause data loss.
Experts recommend businesses to opt for only those cloud providers who offer the benefit of data storage in different locations, thereby protecting data from the challenges of different problem agents.
What Corelynx does for its clients?·Operates multiple SAS 70 Type II compliant data centers strategically located in different Geo locations
Data centers follow HIPAA and PCI compliant hosting standards
Provides maximum protection of physical servers, virtual machines (VMs), and workstations
Ensures immediate and quick data recovery
Enables clients to control offsite data with instant virtualization capabilities
Provides an architecture that flexibly scales up or down as the demand varies.