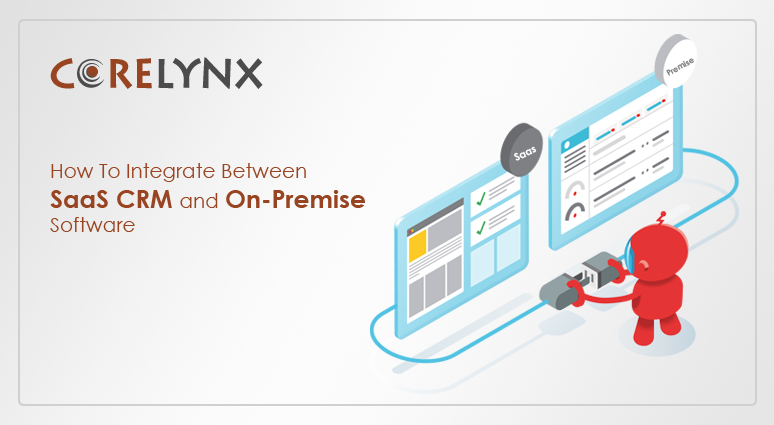 Posted by Paul Anderson
How To Integrate Between SaaS CRM And On-Premise Software
Software as a service has become a popular choice among businesses for enterprise applications such as customer relationship management software. It is easy to implement and eliminates requirements for on-premise hardware and networking infrastructure. Further, lower maintenance and management costs have enticed most small and medium businesses to adopt online customer management software solutions.
Online customer management system promises of better customer dealing and increased sales. But until and unless it is integrated with the rest of your business applications you're likely to receive only suboptimal benefits out of it. However, like many before them, SMEs, which have moved only a part of their enterprise application suit to hosted environment, are challenged with the problem of integrating their SaaS CRM with their on-premise and legacy software.
Unlike traditional legacy software, web-based customer management systems are designed to integrate with other web-based as well as on-premise applications retaining functionality and data of the integrated system intact. But the integration process isn't as easy as it sounds. There are still many obstacles to overcome in achieving successful integration between web-based CRM and on-premise business application suits.
Challenges before web-based and legacy software integration
The integration process, although feasible, isn't easy. There are challenges both in micro and macro levels
First off, traditional systems only allow integration of data but fail to retain functionality and business logic – making the data irrelevant. This is called 'integration penalty'. Advanced web-based applications are designed to offer integration solutions at the functionality level as well and not limited only to integrating database. As a result, usage of traditional database integration protocols like Open Database Connectivity (ODBC) becomes nonviable.
Integration requirements for large enterprises are often quite complex in nature and the SaaS may only be capable of supporting simple business rules. This may cause troubles with the integration process. Big companies with multiple complex business applications will need a rigorous testing process to ensure successful integration. This will increase cost of maintenance and testing.
How to integrate web-based CRM with on-premise applications
Considering the abovementioned complications even the most technologically advanced organisation will need a detailed application integration plan before undertaking the collaboration project.
Creating a 'mashup': 'Mashup' in web development means creating a single user platform combining functions of two or more applications. Using advanced level SaaS CRM customization options a consultancy firm can create an interface within the customer management software interface that will combine functionalities of different business applications.
Batched data integration: It is the most common but popular method of integrating data between applications. With data integration batch, you can send secure, accurate and encrypted batches of customer records through an automated process. You can ensure movement of high-quality customer information at affordable rate that will give your sales team a 360-degree view of customer preferences.
Through APIs: Most advanced level CRM companies offer set of application program interfaces (APIs) to make integration process easy. There are also products available in the market to help in managing the integration process. These services can be availed to perform the integration process at the client's end.
Real-time data integration: To comply with the demand of modern businesses to receive real-time data integration between different enterprise applications are done through hyperlinks or by using SOAP (Simple Object Access Protocol) web-service technologies that facilitates exchange of XML based messages.