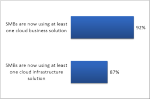 Posted by Paul Anderson
How has cloud become a mainstream technology tool for small business
(2013) Huffington Post – Parallels (a renowned software company), reported that the cloud services industry has grown to $45 billion worldwide. One of the factors that led to this massive growth was 6 million SMBs who purchased their first cloud service last year.
Parallels issued a report proclaiming that the cloud market is expected to grow annually at a rate of 28 percent through 2015 to be a $95 billion industry.
(2014) Small and Medium Business Routes to Market Study reported that 92% of SMBs are now using at least one cloud business solution, and 87% already use at least one cloud infrastructure solution. (Refer to the below-mentioned figure)
Source: 2014 Small and Medium Business Routes to Market Study
The comparison of the 2014 report with 2012 Small and Medium Business Routes to Market Study has brought out another dramatic finding: increased cloud adoption in every solution area.
In the last two years, cloud adoption has increased
· 10% (in collaboration tools)
· 5% (in business analytics tools)
· 2% (in accounting and ERP tools).
Also, purchase channels have gradually changed to favor purchase from software-as-a-service/cloud vendors.
Paraphrasing the words of Stephen Braat, senior director and general manager of cloud and managed solutions for CDW, – the reason behind huge cloud adoption is the benefit that it offers to the small businesses. What cloud has done for the small and medium sized business sector is similar to what companies like UPS and Federal Express did for the shipping industry. It has come as a great technology equalizer. Today, small and medium-sized companies are able to deliver products to customers on a larger scale at a lower cost – all due to the cloud technology.
Holding similar sentiments is Dan Levin, chief operating officer of Box. Paraphrasing his comments – Technology has always been a huge driver of competitive advantage. Historically, technology that larger companies had was never available to smaller companies. Now, for the first time, there is technology available called cloud that doesn't require hardware or technical expertise. It gives small companies the same platform as a big company. That indeed is a huge change.
So what has made cloud this big? How has Cloud computing been an industry buzzword? Why has experts called cloud computing a smart option for any small business?
Below enlisted are all the reasons that will explain you why every small business should be in the cloud:
1. Disaster recovery
A company relying on cloud-based services does not have to brainstorm sessions over complex disaster recovery plans. Cloud service providers take care of it and how! According to survey conducted by Aberdeen Group – businesses that use cloud services are likely to resolve issues in an average of 2.1 hours. Now this is way faster than their counterparts who usually take up 8 hours.
Imagine the benefit you receive using the cloud service. While your competitor (a large company) struggles to recover from the disaster, you get it done faster and better.
2. Increased collaboration
We all know that collaboration is crucial to business success. In fact according to a survey by Frost & Sullivan, companies using collaborative tools have a 400% return on investment.
Cloud computing fosters internal and external collaboration within an organization. Your employees (wherever they are) can easily sync and work on shared documents. They can access records to receive critical updates in real time. In short – they can connect and associate anytime anywhere.
3. Cap-Ex Free
Majority of the cloud computing services are based on the pay-as-you-go pricing model. Result: there is no need for capital expenditure at all. Not to forget that cloud computing is faster to deploy. Hence, you experience minimal project start-up costs and predictable ongoing operating expenses.
4. Document sharing and management
According to the business experts, employees spent majority of their time sending files back and forth over email. This not just wastes time but also implies that the file develops several versions and formats.
With cloud computing, there is no such headache. All the documents are stored in one central repository which can be accessed by all over the internet. There is one central copy on which all the changes/improvisations are made. Moreover, employees can even interact to each other whilst making changes together. Needless to say, this leads to strong collaboration combined with increased efficiency and improved bottom line.
5. Environmentally friendly
Do you know that close to 60% of employees prefer working in an organization that is eco-friendly? And this is precisely why majority of large companies have went the cloud way. Cloud computing enables you to use the exact amount of server space required – no more no less. Result: you automatically decrease the carbon footprint.
Even statistics have corroborated time and again that cloud services results in 30% less energy consumption and carbon emissions. In fact, the small companies benefit better as their energy consumption and carbon emission is likely to be around 90%.
How Corelynx can help you?
To fully realize the benefits of cloud, you require a cloud computing strategy that aligns IT with your business needs. You will be required to:
· Identify workloads to be migrated into cloud
· Understand cloud computing services that can best meet your business needs
· Implement cloud computing model smoothly.
Corelynx is one of the leading cloud service providers specialized in offering customized cloud solutions to clients with varied industrial requirements. Our cloud infrastructure strategy and design help you define a value-driven cloud computing strategy. We use a unique cloud adoption framework and analysis tool to analyze your workloads; and determine the cloud computing model apt for your business. Our objective: to help you achieve optimum benefits from cloud computing investments.
We offer comprehensive Infrastructure-as-a-Service (IaaS), Software-as-a-Service (SaaS) and Platform-as-a-Service (PaaS) solutions. With us you can enjoy a smooth implementation combined with reduced costs and improved service delivery in line with your business priorities.