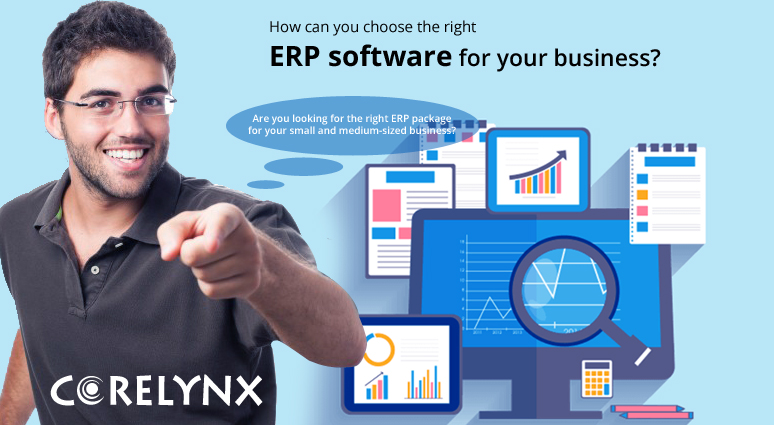 Posted by Paul Anderson
How can you choose the right ERP software for your business?
Are you looking for the right ERP package for your small and medium-sized business?
If yes, then you have come to the right place! In what follows is a detailed discussion on how an entrepreneur/business owner can choose the right ERP package for his enterprise.
ERP is one of the most-talked about enterprise applications. WE all know that. But do we know that ERP is referred to by more than 12 unique terms?
Enterprise Resource Planning
Business Management
ERP Business
ERP Program
ERP Software
Business Management Applications
Organization ERP
Business Management Solutions
ERP Business Needs
ERP Application
Advanced ERP and so on…
With the popularity of ERP touching new heights, there is a chase among small and medium sized businesses to join this bandwagon. But then is following the herd the right solution? While there is no doubt about the benefits of integrating ERP software in the business process, SMBs need to understand which ERP package is right for them!
As a report by a leading technological evaluation center states – "although ample amount of information is available on the Internet about ERP benefits, there is little advice on how to evaluate and choose the right package." And to make this worse is the multiple ERP options in the marketplace today. Unavoidably, selecting the right package has become an overwhelming task.
Holding the belief that any software will work and the organization will simply conform to the functionality of the software is a MYTH. High rate of ERP failures indicate that this isn't the best solution. Ideally, ERP software is meant to be a transformational business initiative that provides crucial advantages to a company by working in similar lines to its process.
Help yourself with these 5 ways to choose the right ERP package for your business:
1. Document your pain points and strengths: Conducting a process review and analysis, is the foremost step to selecting an ERP package. This analysis should include the 'to-be state' of your business system. Let's say what you want your business process to be in a few years down the line. The changes should be noted down and eventually should be used for customizing the ERP package.
2. Analyze the technical compatibility: A software solution cannot benefit a company if it does not align with your current infrastructure. Ask yourself these questions to choose ERP software with the right technical fit:
Which database platform do you want to run your software on?
Do you want ERP software that runs on the platform you choose?
3. Calculate the cost of ownership: Most often the ERP software providers downplay the costs of investing in the software. Well, experts believe that it's a lot easier to know the costs at the beginning than after you have decided to buy it. To know the actual amount involved in an ERP software investment, make sure to include implementation costs, software maintenance and hardware upgrade costs.
Note: Implementation costs should include workflow design, multiple test iterations and data migration.
4. Hire an ERP consultant: Do not assume that you have all the answers. Find other reliable sources that can provide genuine ERP advice. Remember there's nothing better than validating the sales talks with objective advices from external sources.
5. Contact vendors and thin the herd: The number ofcloud based software companies that provide ERP applications is virtually endless. In such a scenario, thinning the herd can be daunting and time-consuming. Hence, companies need to allot ample time for it.
Experts suggest that while most companies choose an ERP solution by brand name, ideally it should be done by one's own analysis. With countless ERP software solutions (integrated with different functionality and strengths), you need to choose one that synchronizes the most with your business requirement.