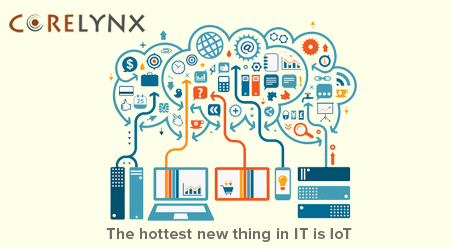 Posted by Paul Anderson
The hottest new thing in IT is IoT
It is a known fact: Technology plays a vital role in business. Irrespective of the type and size of the business – entrepreneurs are required to invest in some form of technologies to keep their business up and running. Over the course of time, this dependence has expanded to such an unsurmountable level that if technology is taken away from businesses for even a day – virtually all business operations around the globe will come to a halt. That's the power!
As a result, every business entrepreneur needs to be vigilant of the changes happening in the technology world, to embrace it on time and flourish in this hyper-competitive age.
In this blog, we bring for you a detailed picture on one of the technologies that has taken over the world by storm. It is popularly referred to as IoT.
The Internet of Things (IoT) will grow to 26 billion units in 2020 representing an almost 30-fold increase from 0.9 billion in 2009.
IoT product and service suppliers will generate incremental revenue exceeding $300 billion, mostly in services, in 2020.
IoT will result in $1.9 trillion in global economic value-add through sales into diverse end markets.
Gartner, Inc.
"The growth in IoT will far exceed that of other connected devices. By 2020, the number of smartphones tablets and PCs in use will reach about 7.3 billion units; in contrast, the IoT will have expanded at a much faster rate, resulting in a population of about 26 billion units at that time."
Peter Middleton, research director at Gartner.
Most likely you have heard about the term IoT and its growing phenomenon. In case you haven't: it stands for the Internet of Things – A phrase you're going to hear a lot more in the coming years.
Why? Because it's about to be the next big thing!
The growth of IoT
Internet of Things (IoT) (which is a proposed network of objects that have connectivity to send and receive data) has experienced an unprecedented growth.
In a report from Business Insider, the IoT will account for an increasingly huge number of connections: around 9 billion by 2018 – roughly equal to the number of smartphones, smart TVs, tablets, wearable computers, and PCs combined.
That's because while IoT started off as a small blot in the IT sphere, it has radically grown into an extensive network of objects (embedded with sensors and connectivity tools) that intercommunicate with each other. Today IoT goes beyond traditional computing devices like computers-and-smartphones and rather covers billions of everyday devices, namely parking meters and home washing machines and so on.
As a result, IoT market value is bound to be massive, because it has started involving devices, sensors, and computing power that covers consumer space, business-to-business, and government industries. And that's precisely why; Business Intelligence has predicted the following in relation to IoT device installation:
Most popular IoT Device Categories
While IoT devices range from consumer space and telecommuting support systems to insurance industries, BI Intelligence Report cites four main categories:
Advertising and Marketing: Internet-connected billboards
Traffic management: Intelligent Applications for toll-taking, congestion penalties and parking space management
Waste management: IoT technology to track factories that exceed waste limits
Electricity Grids: Technology that proactively adjust energy usage.
Water systems and Meters: Sensor-based pumps and other water infrastructure
Internet-managed assembly lines, connected factories, and warehouses, etc.
What benefits are fueling the explosion of IoT?
1. Cost-effectiveness
Investing a ton of money to connect things to the Internet is history now. Internet of Things provides a highly cost-effective, flexible and easy-to-use platform that can be used to build a new generation of connected devices.
As a result, at the expense of a few dollars, companies are churning out IoT devices in relation to fields like energy management and home automation. These Internet-enabled devices (embedded with microcontrollers and wireless technology) can interact seamlessly with other objects, thereby delivering a broad-range of benefits to consumers.
For instance, this 'always connected experience' is changing the way consumers control their surroundings. From thermostats and lighting to home appliances, consumers are comfortably managing all these with remote access.
2. Big Data and Analytics
The rollout of Internet of Things will have data spewing from all directions. There'll be ten hundred new avenues that will incessantly stream raw chunks of data.
Imagine the high-level information companies will gain from all these real-time data feeds. As per the requirement, companies can crunch the data to reveal new insights to make smarter decisions.
For instance, governments can program the streetlights to dim slowly on occasions when the electric grid is facing high peak demand. How effective is that?
3. Societal Development
Internet of Things will fundamentally move the society forward. The objects will make substantial innovations to every area. Right from connected transport and parking systems to on-demand factory operations, together all this will carve a positive impact to the society and most importantly to the economy.
4. Industrial Development
Gartner speaks – Emerging areas will witness rapid growth of connected things. This will lead to improved safety, security and loss prevention. IoT will facilitate new business models, such as usage-based insurance calculated on real-time driving data. The banking and securities industry will continue to innovate around mobile and micropayment technology using convenient point-of-sale (POS) terminals and will invest in improved physical security systems.
IoT will also support a large range of health and fitness devices and services, combined with medical advances, leading to significant benefit to the healthcare sector. Emerging connected sensor technology will lead to value creation in utilities, transportation and agriculture. Most industries will also benefit from the generic technologies, in that their facilities will operate more efficiently through the use of smart building technology.
Tech Giants adopting the IoT technology
While IoT has been growing under the surface for the last couple of years, the real buzz about the Internet of things has taken off in 2014, when names like Google, Fitbit and Nike have joined this trend.
Google's acquisition of smart thermostat and smoke alarm company Nest, or the advent of wearable devices like Fitbit, Nike FuelBand trackers and Google Glass has given IoT a kick start.
It's a result of this that today you've the leading tech giants embracing this trend with open arms.
Folks like Cisco and General Electrics (GE) have ventured full force into the IoT space. Be it the robotic hospital systems of GE or Cisco's "Internet of Everything" public sector projects – their initiatives are in full swing.
Asia-Pacific Region
Asia-Pacific region has turned out to be leading spender on Internet of Things. Countries like India and China are pioneering in smartifying the formerly clunky industries.
Mr. Andrew Milroy, Senior Vice President, ICT Practice, Asia Pacific at Frost & Sullivan has stated –
"By 2017, the Internet of Things (IoT) market will be one of the fastest growing segments in the Asia Pacific technology industry. The total Asia Pacific spending on IoT is forecasted to be US$59 billion by 2020. This offers real opportunities, especially in areas of manufacturing and consumer technology, which are expected to be two of the fastest growing segments over the next two years."
A famous Indian Tabloid has also declared the beginning of a New Indian IT arena with the Internet of Things.
The article states:
''After decades of low-margin work like server maintenance, India's information technology service firms are moving upscale in search of lucrative contracts for driverless cars and other advanced projects as online innovation changes clients' needs.
Companies from Tata Consultancy Services to Wipro are all joining Infosys in investing in new, high-end technology. Wipro is building computing systems designed to mimic human decision-making abilities, where machines can understand and react to what human beings say to them. HCL Technologies, meanwhile, is using robotics to do away with manual testing of hardware.
Indian companies are also looking to collaborate with startups to jointly develop solutions for clients and in some cases are also eyeing takeover opportunities to get access to skills needed to win these contracts.
CP Gurnani, chief executive of Tech Mahindra has stated. "Internet of Things is a small part of business; we are still not at the inflection point. But we are laying down the roadmap."
Small & Medium Business – Mastering the IoT
When we talk about the IoT market, it's not just the giant industrial conglomerates who are leading the race. The well-known startups and fast growing small to midsized companies have come on board, giving a stiff competition to the larger counterparts.
In the opinion of Shawn Drew (technology strategist), small businesses have a considerable advantage in IoT. To stay on the cutting edge, they just need to understand how they can leverage it the right way.
Paraphrasing his words –
''IoT (like other tech advances) initially was a prospect just for the large enterprises. That's because its remote sensors and connected devices were beyond the financial reach for most of the small and midsize businesses. However, reductions in manufacturing and upkeep costs for connected devices changed the whole scenario. It brought on a true explosion in the IoT arena, opening the door for smaller players to shine in the market.''
Gartner too that has predicted smaller businesses as the main driver of Internet of Things. In its New Research, it clearly states that:
Startups will drive the use, growth and acceptance of the IoT over the coming years
By 2017, half of all IoT solutions will be originated from a startup less than three years old.
In its opinion, large enterprises will limit to a small number of revenue-generating IoT solutions because of their lack of agility. On the contrary, smaller businesses will be free to experiment with internet connected devices and services that will result into a large number of niche-market IoT solutions.
Corelynx – Next Generation Internet of Things (IoT) Solution Provider
An ISO 9001:2008 Certified Silicon Valley based Enterprise Software Company; Corelynx has been consistently offering custom application development in the technology, retail, telecom, healthcare, hospitality, banking, insurance, media and public sectors.
After delivering superior business value to clients in areas of Customer Lifecycle, Sales and Marketing, Enterprise Resource Planning and IT solutions and services – Corelynx has ventured full force into the IoT realm.
Its team of strategic consultants, engineers and system architects has deep experience in developing complex IoT service solutions. Operating since 2005, it has developed implemented and customized IoT solutions and services across a wide array of industries namely-
1. Agriculture & Farming: Device for Crop Yield Maximization.
It helps farmers increase the field productivity by identifying the most effective fertilizers. The device monitors the fertilizers' effect on the crops and provides these insights to the farmers to help make smarter decisions.
2. Sales Force & Workforce Management: Device for Employee Performance Evaluation.
It provides real-time analytics on how employees are doing and in turn allows the management to identify the performance patterns and improve employee efficiency. Business develops a closer connection with its workforce by making the best decisions supported with the right information.
3. Customer Experience Management: Device for Customer Journey Mapping.
It enables companies to gain insight into customer experience from all touch points. It exposes critical trends and metrics about customers' product/service usage, complaints and feedbacks. With this increased visibility, business can make the most informed decisions in relation to product/service improvement and modification.
In short, it enables the business to understand their customers in a whole new way, and with a higher level of detail. As and when required, business can collect and analyze this information to better product design and boost customer satisfaction.
At present, Corelynx is working with a leading chain of clients, developing IoT solutions for both industrial and consumer-focused market. Clients, who have worked with Corelynx earlier, advocate the company's strategic approach where its engineers work closely with the client, understand the unique business processes, and determine the best IoT solution.
With a combination of technical expertise, business knowledge and creativity – Corelynx is one of the select IoT solution providers that have a proven track record of transforming the clients business by making them realize their IoT vision and maximize their bottom line.