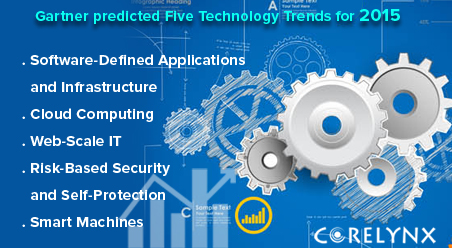 Posted by Paul Anderson
Gartner predicted Five Technology Trends for 2015
To succeed in business today, it's necessary to be alert towards the upcoming business trends and technologies. While there are multiple experts suggesting innumerable trends and technologies, what we have brought for you is a summarized version of the Five Strategic Technological trends suggested by none other than Gartner. Read further to find out what these trends are:

1. Software-Defined Applications and Infrastructure

Business Landscape will turn more competitive and to deal with this, businesses will have to ditch the static models and move towards the dynamic. Right from applications to basic infrastructure (networking, storage, data centers and security) all will have to have agile programming. The objective should be to have rules; models and code that can dynamically assemble and configure all of the elements needed – from the network to the application. Then only can the businesses become flexible enough to deal with the rapidly changing demands of digital world.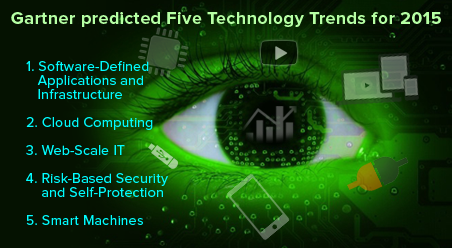 2. Cloud Computing

2015 will see a greater convergence of cloud and mobile computing that will continue to promote the growth of centrally coordinated applications. By centrally coordinated applications we mean the ones that hold accessibility from any device. Applications that do not support simultaneous use of multiple devices will go towards the downhill. Consequently, organizations (both big and small) will focus on enterprise software applications compatibility across devices.

"Cloud is the new style of elastically scalable, self-service computing, and both internal applications and external applications will be built on this new style. While network and bandwidth costs may continue to favor apps that use the intelligence and storage of the client device effectively, coordination and management will be based in the cloud" said Mr. Cearley.

3. Web-Scale IT

Web-scale IT will come into fashion. How soon it comes depends on when and how fast the commercial hardware platforms embrace the new models and cloud-optimized and software-defined approaches reach mainstream.

And once it's there, organizations will get the capabilities of large cloud service providers within an enterprise IT setting. Both small and big organizations will build applications and infrastructure like Amazon, Google and Facebook.

DevOps will be the first step of the organizations planning to embrace web scale IT. They'll synchronize development and operations to continuously develop applications and services.

4. Risk-Based Security and Self-Protection

In today's digital world, organizations cannot do with perimeter defense. They need to recognize that perimeters and firewalls are no longer enough. Instead they'll need to make every application self-protecting by building security directly into it. That is to say that application should have own active security systems and more-sophisticated risk assessment and mitigation tools. For instance – security-aware application design, dynamic and static application security testing, and runtime application self-protection combined with active context-aware and adaptive access controls.

5. Smart Machines

The era of Smart Machines will come up and will be the most disruptive in the history of IT. These new-age machines will have the compelling combination of advanced algorithms that allow systems to understand their environment, learn for themselves, and act autonomously. In simpler words, these machines will work proactively, as per the demand of the situation.

Prototype autonomous vehicles, advanced robots, virtual personal assistants and smart advisors are a few examples of these smart machines. In the coming years, these machines will evolve rapidly.