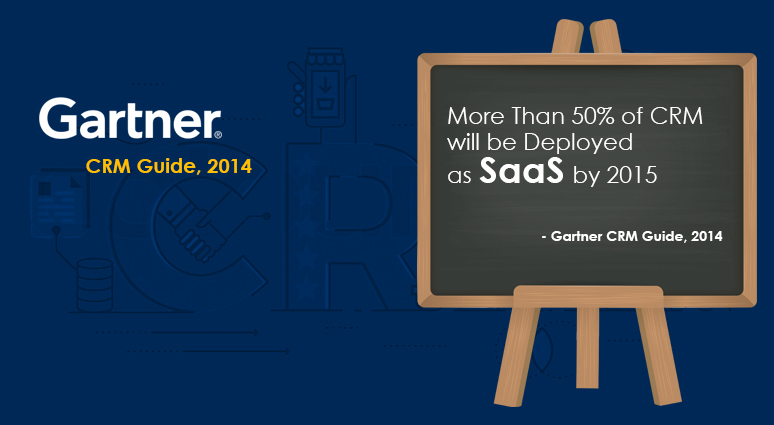 Posted by Paul Anderson
Gartner CRM Guide, 2014: More Than 50% of CRM Will Be Deployed As SaaS by 2015
It's clear and evident! Gartner in its CRM Guide 2014 (published on March 10, 2014) has stated the rate at which CRM systems are expected to thrive within the next ten years. With more than 50% Of CRMs to get deployed As SaaS by 2015, you can say, the tipping point of on-premise versus SaaS-based CRM deployments will eventually arrive next year. And that's not it – Gartner further anticipates "SaaS deployments of CRM to reach a maximum of 80% to 85% by 2025''
Here are a few other key extracts from the report:
The CRM market growth will stay moderate in 2014, following three strong years of investment.
''The CRM software market is projected to grow at a 14.8% compound annual growth rate (CAGR) through 2017, with cloud revenue growing at more than 22.6% CAGR".
Below cited is a graph depicting the comparison of market growth rates by CRM application category:
Please note: Gartner has included integrated marketing management (IMM) in the Marketing category.
Percentage of Worldwide CRM Revenue by Region, 2013 and 2017
While North America and Western Europe has been the largest regions for CRM, accounting for 80% of total software revenue in 2013, their revenue might decline by 1% in 2017.
Otherwise, most regions will experience double-digit growth rates for the next five years.
Latin America, Greater China and Asia-Pacific will have the highest CAGR for the next five-year period. Reason: These emerging regions have witnessed good growth rates even in an economic crisis. Customer service will dominate in the CRM application category by having the largest share in Greater China, Latin America and emerging Asia/Pacific countries.
Western Europe might have the lowest CAGR at 9.7%, due to the market's mixed economy.
What are the possible factors that are accelerating this inflection point in CRM? (Particularly SaaS CRM)
Louis Columbus– Customers are responsible for this sudden proliferation of CRM systems. They are radically changing the landscape, making it difficult for most companies (including the BIG players) to cope up with it.
And in fact, it is the most challenging situation for the larger companies. The larger their operational horizon the harder it is to change the approach in dealing with prospects and customers.
Unlike the earlier times, customers' expectations of responsiveness have become way too fast. Five to ten years before, doing away with legacy CRM system were okay (thanks to the non presence of mobile applications and social networks) but today – it's all about making the service agile.
Sales teams cannot afford to take two week classes (and still make their quota) like many legacy CRM systems offered. They have to be up and running on a new CRM application literally in hours or days to be effective. It's all about being quick enough to define new sales strategies, apply and measure them as an on-going process.
And this is precisely where SaaS CRM systems come in the picture. Designed with mobile deployment in mind, they emphasize upon streamlined, intuitive and user-customizable interfaces to help sales teams be more effective.
And it's just not about sales, but other teams too – marketing and customer service. Each of them primarily need a Cloud CRM system that not only is up and running in a few hours or days but gives the benefit of streamlined customer data on the move.
What is the bottom-line?
If you are using a CRM, your CRM should ideally be hosted in the cloud. And if you aren't using a CRM, you are miles behind your competition!
Cloud CRM has definite advantages over its counterpart – the traditional model that requires setting the system up in an onsite data center. With more and more small and large enterprises realizing it, the need for Cloud based CRM system is only soaring high. And it will continue to do so even more in the coming years as customers' expectations of responsiveness keeps increasing.
And in such a scenario, it will be nothing but deliberately putting the foot on the axe by not opting for a SaaS based CRM.
Paraphrasing the comments of Angus McFayden – The move towards cloud based solutions is predominantly driven by cost effectiveness and the flexibility of those solutions. With cloud based CRM systems, businesses are able to deliver on their strategies a lot quicker than if they had to build their own CRM system. Not to forget, that they also remove the hassle of hosting and maintaining infrastructure in-house.
Apart from Salesforce, the leader in cloud CRM, there are many other crucial CRM players who have come on the horizon. Many renowned companies have been specializing in customizing cloud CRM solutions for their clients. If you are also one of those who dread of taking a ready-made CRM solution, contacting a CRM application Development Company for a customized cloud CRM solution will serve the purpose.