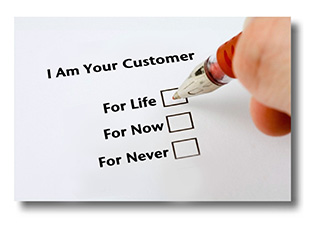 Posted by Paul Anderson
Five key lessons to create customers for life
"Please hold as we direct your call to the customer executive…All our customer executives are attending other customer calls…Please stay on the line as your call is important to us" – An oxymoronic statement!
A large section of customer experts have criticized automated feedback systems. As per their opinion, as companies have automated their interactions with the customers, actual customer feedback has got lost.
So when you have a recorded voice saying – "press two for this" or "please rate your experience with us by hitting one, two, three, four, or five on the phone" – customer on the other end is compelled to interact in a limited format. The customer responds to the questions the company asks. The feedback system does not give customers the chance to tell what they want to.
So is automated feedback system out rightly bad? We say no! While it has its share of pros, as business owners we also need to understand that consistent dependence on automated customer feedback system makes us grow out of touch with our customers and eventually lose them (even though that is not what we want).
How can companies create customers for life?
By delivering exceptional customer service!
In a recent interview conducted by one of the leading Forbes writers, Virgin Group founder Sir Richard Branson spoke about customer service/experience and how it helped Virgin America enjoy allegiance of several customers for many years.
Read further as we bring to you exclusive tips on customer retention given by Sir Richard Branson during the interview:
1. Visibility: In the words of Richard Branson, "if a company leader is always on the move, meeting employees and soliciting feedback from customers – nothing like it. And this is precisely what he does too. He is never stuck behind a desk as most of the time he keeps himself busy asking for passenger opinions and suggestions and noting them down"
Branson firmly believes that a leader's creativity is only nourished when he comes out of the confines of his glass-walled chamber. Spending time talking to customers about their experience and asking employees for their ideas on better customer service is what he emphasizes upon.
2. Hire people with the right attitude: Do you know that Virgin America hires just about 1 out of 100 people who apply. According to Branson, Virgin follows a very strict selection procedure where applied candidates are taken on attributes, namely – competence, friendliness, and commitment to provide superior customer service. In his words, "we take people who see life as "glass half-full".
He further adds – "When a company hires good human resources, other great people want to work there, too".
In relation to this context, Branson recalls a case where a pilot left an airline after 18 years to work in Virgin America because of the latter's strong reputation in serving the customer.
As Branson puts it – "technically, we are an airline company offering good customer service but ideally, it is the other way round".
3. Empower your employees: Branson stresses upon giving the right training to the people. He says – "Once you have hired the right people, it is important that you render comprehensive training to them to enable them deliver effective customer relationship management service".
He also mentions about employee appreciation and recognition. He states – "At Virgin America, team members are not only trained to satisfy customers, but they are also publicly rewarded when they do".
He points out to an instance of fog delay in San Francisco; when he personally congratulated the in-flight team as they offered complimentary cocktail service to waiting passengers. According to him it was quite a creative solution to keep their customers happy while they waited.
4. Consider your people as the greatest asset: Branson explains – "the features and amenities Virgin America offers are all part of the package. While attractive packages attract customers to fly with us, it is eventually the quality of the interaction they have with our employees that encourages them to return".
And this is precisely why, Branson demands companies to focus on building quality interactions between leadership, staff, and customers. Then only can an average company step to a higher pedestal.
5. Engage in social media: Virgin America responds to nearly every customer comment and question on Twitter. And they do this 24 x 7. Branson recalls an incident when a customer tweeted on Sunday about leaving a file folder in the seat pocket. Little to his expectation, Virgin America replied back within thirty minutes.
According to Branson, it is this quickness that has made customers feel that Virgin America doesn't use social media only to pitch marketing messages. There are real people who are engaging with customers in genuine and helpful conversations. And this is exactly what he suggests every company should do.