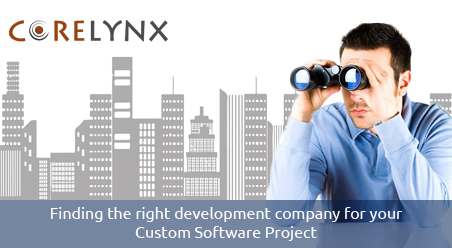 Posted by Paul Anderson
Finding the right development company for your Custom Software Project
The dilemma between choosing off-the shelf product or developing custom software puts many business entrepreneurs in a fix. While both measure equally on the weighing scale, the needle slightly bends towards custom software development.
That is because most off-the-shelf software applications are rigid with limited customizable features. On the other hand, custom software has the remarkable ability to get built exactly the way we want it to. And since every business has a unique operational process, it makes more sense to opt for custom software development and meet the specific business needs precisely.
If you want to develop a customized software to transform the daily operations of your business, concentrate on hiring the right team of software developers. Reason being that even though there are several custom application development service providers in the market, all are not good.
To ensure that you realize maximum ROI out of your custom software investment, here are a few tips to choose the right team for your project.
1. Check online platforms
This is a great way of of finding real proven experts in the industry of custom software development. That is because most of the leading custom software development companies operate actively on renowned web portals. Use these platforms to check the profiles of companies along with the reviews posted by their clients. If required, you can even pitch your projects here and hire developers from within the platform itself. All these platforms are safe, secure and foster companies to get their custom software projects smoothly accomplished.
2. Ask for referrals
Word of mouth is one of the most underrated methods of seeking custom software developers. But in reality there is nothing better than word of mouth recommendation. So before you start your own search, why not talk to other folks in your professional network to see if you can get referrals for custom software developers?
Remember, the referrals that you will get here will not be based on any commercial benefit but will be genuine advice. And asking for referrals right at the start will not only fast-track the process of acquiring a list of custom software developers but also help you gather good and bad reviews about them.
3. Emphasize upon the 'experience'
It is always an asset to have an experienced company as your custom software development partner. That is because these companies have worked on many projects; are familiar with the challenges that can surface during software development life cycle; and have a proven methodology for successful completion of the projects.
So check the portfolio to understand the range of projects handled by the team. Choose a service provider who has the experience of building intelligent, lean and robust software solutions in a cost effective and timely manner for a wide variety of industries.
4. Avoid vendors who promise extremely low rates
It is easy for you to get tempted to the vendors who offer 'low cost business application development service'. However, various instances have come up which have shown companies destroy their custom software projects by falling prey to hoax vendors who have promised low project quotations but delivered substandard quality later. Hence, do not get enticed by such gimmicks of the vendors as this can cost you dearly. Any vendor of good reputation will never pull up cheap stunts and ensure to offer clear, unambiguous and correct pricing.
5. Choose developers focused on the business aspect
Often it is observed that what drives most custom software projects is technology when ideally it should not. That is because while technology does play a key role in custom software development, the main focus is the business goals that needs to be accomplished by the application.
The real wise software developers understand this fact and focus more on how the application needs to achieve the business objectives, not the technology that will be used in order to get there. So choose a custom software development company that does not gets completely immersed into the technology aspects of the project but rather keeps your business needs front and center.
6. Prioritize good communication skills
Gone are the days when software developers meant introverted geeks, working in isolation. Today, the best of custom software developers work in full cooperation and collaboration with the client. Interaction happens directly and regularly between the client and the developers. This certainly helps as there is no communication gap, no information discrepancy, requirements are properly understood, both the sides are on the same page and the project runs smoothly
So choose a company whose developers not only possess the required technical skills but also have necessary communication skills to collaborate with you regularly and give an update on the different stages of the application development.
7. Review social presence of the companies
Social presence has become the next leading parameter of selection. Once you have formed a list of potential business application development service providers, take them one by one and check their social media presence. See the kind of reviews posted by clients over there. Check whether any of their clients are associated with them socially too. If yes, then this should be your green signal!!