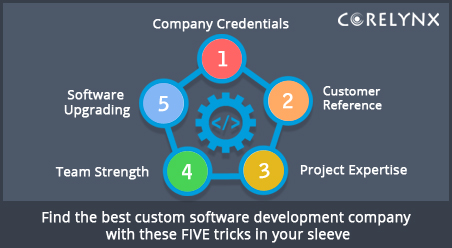 Posted by Paul Anderson
Find the best custom software development company with these FIVE tricks in your sleeve
Both large and small scale organizations have become 'technology driven'. When we say 'technology driven' – it simply means that it's these diverse software solutions that streamlines, stimulates and enhances the business operations. As a matter of consequence, the role of custom software developers has taken an unprecedented importance. They are high in demand as they are the ones who can really give a meteoric rise to the business with the best of custom applications.
However merely hiring some XYZ custom software developer doesn't take the business towards its goal. With multiple instances of failed software implementations; businesses need to be more watchful of who they choose to partner with. After all, the initiative to get a software solution only fosters when the 'right software partner' is chosen. And by stating 'right software partner' we mean someone who has the
1) potency to materialize the idea into a robust solution;
2) abreast with technology and analyzes the pros and cons of the idea with a rational approach.
In what follows is a list of FIVE essential pointers that throws light on what any company should keep in mind while searching for a Business Application Development Service:
1. Company Credentials
Its common sense but still we find it necessary to repeat it. So yes, no matter how badly you are in a hurry of a custom software provider – never go for a company that has no customer testimonials/references worth showing to you or any other client.
Also, ask for other company credentials like date of establishment and certifications from any industry-recognized trade associations. Remember, these credentials will help you authenticate the genuineness of the company.
2. Customer Reference
Got multiple customer testimonials to look into? Great, But don't stop at this. Interact with these clients and check how satisfied they are.
Why do we say this? Sometimes the story in the testimonial is not as good and rosy as it portrays to be. By interacting with a few customers in real – you get a precise notion of the vendor's service.
Custom Software Development is not a one day job. Right from the design and development to deployment, your team will be constantly interacting with the service provider. In such a scenario, you really cannot afford to go ahead with someone who falls short of providing an excellent customer service.
3. Project Expertise
Make expertise the forefront parameter for the selection. Focus on queries namely –
What level of expertise does the company holds?
Has the company dealt with any other company of your industry in the past? Or are they newly putting their hands in it?
Are there any specific domains in which the company specializes in?
The last question holds more relevance if you are looking for a solution in a specific domain. So let's say if you want to build an inventory solution, then it's prudent that you look out for a company which has voraciously developed inventory management applications.
Note: Hiring a company with the right expertise will help you bring shape to your project at the earliest. It'll have the correct rational approach in understanding your project requirement and will focus on all details like design architecture and testing. It'll exactly comprehend:
The objective of the idea
The viability of the idea
The efficacy of the idea (how effective will it be in helping the end users?)
4. Team Strength
Finding an experienced partner is the first part. Second and equally crucial aspect is the team that will supposedly work on your project. Look into
What kind of team will handle your project?
How soon or late does the team plans to meet the deadline?
Are the team members adequately experienced?
On the whole, analyze the team strengths in relation to your project requirements to ensure that by the end of it you get an application that rightly matches the industry guidelines, fulfills your requirements and adds value to your business.
5. Software Upgrading
Living in this dynamic landscape, you cannot remain dependent on a stagnant application for years to come. As and when required, you got to make improvisations there to keep your product updated. Then only can the application complement your evolving business processes and the industry trends at large.
Hence, think of the future prospects now and choose a software vendor that is capable of adding enhancements/modifying the product architecture later. Also go in for a scalable software solution that can be comfortably made up and down as and when the requirement crops up.