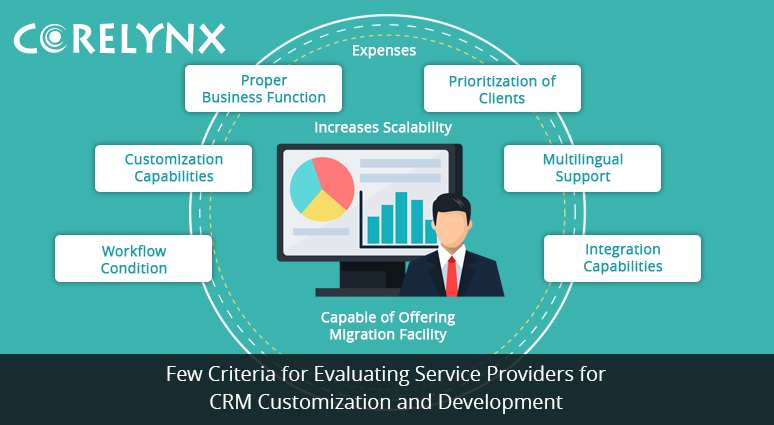 Posted by Paul Anderson
Few Criteria for Evaluating Service Providers for CRM Customization and Development
An enterprise CRM system is capable of tracking down all sorts of interaction with the client through various means like email, online conversation, direct mails or through POS interaction. CRM customization also is highly desirable. So evaluating a CRM service provider is one of the important decisions to be undertaken by the entrepreneur for getting desirable results.
Do you also want to evaluate your CRM service provider? The preliminary research shows that you must make the evaluation on the basis of certain parameters that are as follows:
Proper Business Function:
Considering the fact that different providers have varied strengths, you must choose the right vendor on the basis of the business functioning that your CRM system rightly concentrates on. For example, for a CRM product having marketing element must have robust campaign management as well as email monitoring systems. At present, CRM must be equipped with the templates in order to cater to various requirements of business.
Expenses:
While acquiring CRM solution from a provider it is crucial to have a check on the operating costs that sometime go above the licensing fees. Execution fees as well as labor fees and other fees for integration etc are often higher than the existing fees for licensing. You must find out the truth of your service provider's high claims of cost reduction. It is best if you talk to other enterprises, if possible from the same vertical, who have used the solution before.
Prioritization of Clients:
A good customer relationship management system provider should always prioritize the needs of the customers. So the chosen CRM application solution must include attributes for best data quality practices that effectively help in minimizing duplicate entries and also accomplishing the task of standardization. It also initiates correct identification of valuable clients thus allowing client service executives to focus on them properly.
Customization Capabilities:
There are some vendors who are unable to provide customization facilities on a huge scale. In such case Customization process becomes too expensive to be maintained. In such cases you are restricted to number of fields only that you insert or even customize for meeting your business needs.
Multilingual Support:
Your vendor must provide CRM solutions that give support to multiple languages thereby catering to the customers across the world.
Increases Scalability:
All the vendors who exist in the industry claim to offer solutions that are largely scalable. But efficiency of CRM solution depends on the nature as well as data volume that you require to store as well as the place you can store it. Your preference depends on how well the system can handle multiple users on similar CRM instance.
Workflow Condition:
For big enterprises often the business process automation in CRM service is significant for reducing the efforts manually. Make sure your CRM service provider has workflow engines to create best practices for your business requirements.
Capable of Offering Migration Facility:
Since migration is a difficult job to be handled, you must check out the migration abilities of your chosen provider. This becomes really important in case of cloud based CRM. Plus, the CRM provider that you have chosen must make your CRM system suitable for application data extraction and also make it available in different formats to peripheral applications.
Integration Capabilities:
While doing evaluation of a CRM provider, you have to first assess your own situation and ask him if he can support your integration requirements.
To know about CRM applications and customization facility you are suggested to visit http://www.corelynx.com.