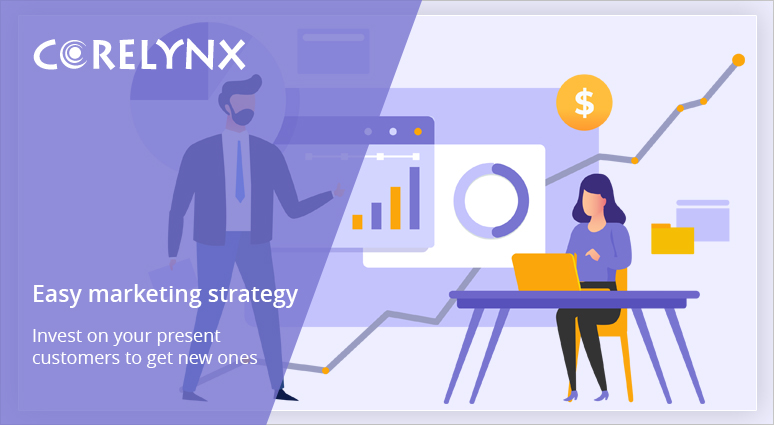 Posted by Paul Anderson
Easy marketing strategy: invest on your present customers to get new ones
The rise of cut-throat competition in the corporate sphere has compelled organizations to brainstorm business marketing strategies. Prolonged discussions; endless cups of coffee and analysis of the competitors' marketing schemes – have become common in every company.
As the marketing VP of a retail brand puts it – "with new company registrations increasing day by day, the challenge of surviving in the market has become exigent. The targets have increased and the marketing professionals are the first to feel the heat."
Having stated the present business scenario, questions that spring up are – What are the marketing professionals up to? How are they dealing with the increased work demands? And most importantly are they doing it the way it is supposed to be done?
According a leading marketing consultant – "the work tactic of most marketing teams is not in the right direction. What they are following is a herd strategy."
Taking the above-mentioned sentence into context, let's discuss the ideal marketing method.
The term business marketing has been primarily associated with customer acquisition. The more the leads, the better the job done, and to accomplish this target, marketing professionals invest in every possible medium. TV advertising, direct mail, campaigns, and social media – all these make up the most of marketing initiatives. But then again do they actually achieve their target? If yes, then is there is a simpler way to do so, and if no, then again are they concentrating on the wrong steps?
Marketing professionals, team leaders and most importantly business entrepreneurs need to understand that across industries, the best and proven way to drive new customers is good word-of-mouth-publicity. And the truth of matter is that there is no one better to do this than the existing customers. This is precisely why investing on the existing customers should be the first marketing strategy of any company.
What do the companies think?
Well, it is interesting to see that most companies perceive investing on their present customers as a financial liability. And to top it all, this thinking is not new. Analyzing the past marketing trends, very few companies in the last 5-10 years have favored developing the overall value of customer relationships for marketing gains.
It will not be wrong to say that most companies adopt a cognitive dissonance theory. While they do claim of valuing their customers as assets, they do nothing to improve the customer-company relationship. Confirming this mindset further is a recent research which showed that only 60% of marketing professionals spend on customer retention schemes.
Will the mindset change?
Yes, and this is where the good news comes. According to a group of experts, the mindset of marketing professionals has started to change. Thanks to several business reports which have come up in the recent times. Read further as we look into 2 important business reports which have created news:
According to a report by Oracle, 80% of customers are willing to spend more on the companies if they get treated properly. In fact, a similar report also stated that loyal and satisfied customers not only wish to continue their allegiance with the company but are also willing to share positive stories of the company with others.
Another report worth mentioning is the one that has related market performance with customer experience. The report has concluded that businesses offering strong customer service have been the top leaders in acquiring new customers. On the contrary, companies who have not invested on their customers have experienced a massive decline in their overall returns.
Speaking of correlating market performance with customer experience, there can be no better way to explain this fact further than citing the example of Amazon.
Amazon as we all know is the current market leader. One of the key factors that have enabled it to gain such a strong threshold is regular investments in customer experience. Offering the best of products and services, Amazon has always prioritized the requirements and concerns of its existing customers. And what has that resulted in – today Amazon stands proudly having built the reputation of a trustworthy name. The word-of-mouth-publicity for Amazon has spread so strongly that millions of individuals all across the globe go to Amazon for almost everything.
Conclusion
Finally, it can be concluded that companies who are willing to spend 20% of their marketing budget on better customer experience are certain to experience higher customer acquisition. Instead of running after different marketing schemes, companies need to invest time and money on leveraging the power of existing customers. The best way to start doing this is by contacting a CRM software provider.
With the CRM tool integrated in the business process, the companies can get key insights into customer records, past transactions and purchase patterns for an exact customer-specific analysis. Inevitably, it will help them to predict customers' future behavior and offer a better treatment accordingly.