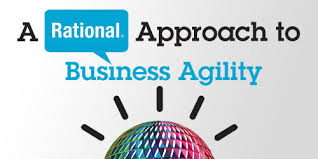 Posted by Paul Anderson
Does cloud computing leads to business agility
Cloud Computing's demand is old news. We're reading more and more stories about cloud adopters (across the world) every day, creating a veritable hype cycle. Let's not get into that.
Rather let's shift our focus on why cloud computing technologies have become rapidly applied across eco-systems, business and IT? (As discussed byFrank Bauerle, IBM cloud computing evangelist)
Steve Twist, cloud lead for IBM Software Group in Australiastates two of the benefits of cloud computing in IBM Pulse 2014 conference in Las Vegas –
1. Cloud reduces capital and operational expenditure on IT infrastructure and application services, thereby lowering overall business operational costs.
2. Cloud provides better and wider-reaching services for customers with an improved responsiveness to changes in customer needs and increased global visibility.
While these two reasons hold tremendous value, the third reason is the one that predominantly stands out as the key driver of cloud computing – BUSINSSS AGILITY.
Why is business agility so important?
Business agility has always been one of the key aspects discussed strategically in keynote presentations and breakout sessions. In fact, it has been the core topic of discussion in IBM Pulse 2014 conference where business agility and cloud computing have been talked about at length. From Robert LeBlanc, Senior Vice President of Software and Cloud Solutions at IBM to Liz Herbert Principle Analyst at Forrester – every expert has (some or the other time) discussed at length about the need for business agility. .
The obvious reason behind this 24/7 emphasis upon business agility is the present business scenario. Looking at the social media proliferation combined with the trend of two-way interactions with customers – businesses do not have any other option but to respond much faster to events and opportunities. They are in the constant lookout for rapid and dynamic responses that meets the requirements of the ever-evolving business environment.
The agenda is simple: to get applications that:
Help capture potential market opportunities
Scale up or down depending on the success of a particular offering or campaign.
How cloud computing comes into the picture?
In an increasingly competitive and fast-moving world, complex, fragmented business and IT environments are the prime concern in most traditional businesses. Not only do these environments make the entire business operations slow but also costly and risky to change. Not to forget that they also pose critical threats to the survival of a company.
Cloud Computing works as a paradigm shift. The new paradigm of cloud computing pervades all aspects of business and IT. Result: businesses make benefit of innovative capabilities, highly evolved business models and improved eco-systems and economies to apply and monetize value from.
According toGrant Thompson, these are a few areas where cloud computing makes a profound impact:
Business methods, techniques, tools and underlying technologies
Software design, development, integration, deployment and management
Product and service strategy, marketing, selling, delivery and support.
In fact it is the comprehensive benefits of cloud computing that has made industry experts coin a new term – the cloud computing era!
In this era – from business models and processes, to software applications and their integration (APIs), – everything will be powered by cloud so that they can be quickly and continually composed. Both business and IT functions will be consumed on as-a-service model – i.e. when you want it, where you want it.
And it is precisely this era itself which will further give rise to Internet of things where – internet, people and machines will be interconnected and used as a service in real time. Inevitably, this will lead to low cost and high speed.
So does it imply that opting for cloud based application development will straight away make the business more agile? Probably not.
In the view of Frank Bauerle – Simply opting for cloud computing because everyone else is doing so cannot be the reason. Business entrepreneurs need to be aware of certain factors. Knowing their business process the best, they should have clear-cut reasons of opting for cloud based application development rather than the traditional ones. The objective should be well-defined and the plan neatly sketched out.
Then only will it be possible for them to leverage cloud computing capabilities.
Plus, they need to get rid of the myth that simply embracing cloud computing will lead to business agility. For becoming agile in nature, they need to combine their business and technology management.
While cloud computing by itself will not make a business agile, it will move a company significantly along the path to business agility. It is only when the business will leverage cloud computing benefits to have the right processes and management behaviors that eventually will lead to agility and improved financial performance.