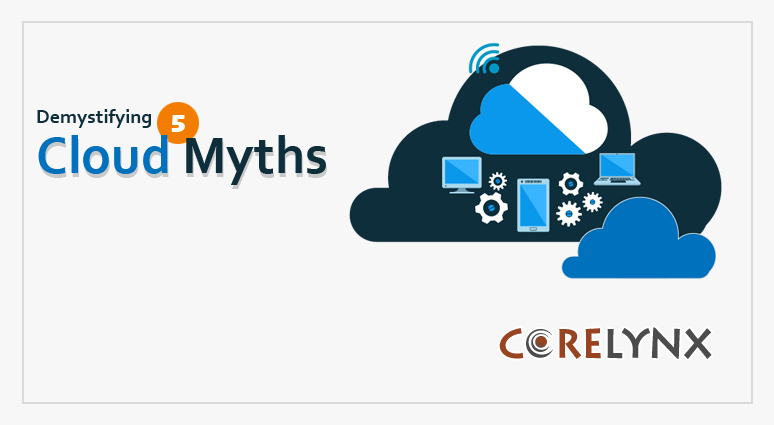 Posted by Paul Anderson
Demystifying Five Cloud Myths
The IT industry has been caught in the frenzy of cloud computing. As a result, there have been a lot of true and not so true statements floating around which are contributing to the already existing confusion. Cloud computing service providers are offering a hoard of as-a-service solutions which are further making the situation cloudy for users. Here is therefore an effort to demystify cloud computing to give you a clear idea about what to expect from it.
Public cloud is inexpensive:
It is in a way but not always. Shifting your existing hardware requirements and suite of enterprise applications is much easier with public cloud. Moreover, you don't have to worry about data storage and backup facilities. But public cloud too can be expensive if resource usage on it is not properly monitored. It is therefore essential to have a cloud strategy described before you consider your options with hosted service solutions.
Cloud is not secured:
This idea has been around for quite a while. In the early days there had been issues with outage and data loss but things are coming around good and lot of efforts are being put forward by cloud hosting service providers to make the virtual setup secured like in-house environment.There is also an idea that private cloud is safer than public cloud, which is again, a myth.
All clouds are the same:
That is completely untrue. Nowadays, all service providers prefer offering personalized solutions to users to meet their particular needs. The service level agreement drawn out between the service provider and the client is an important determinant of nature of the services offered.
Virtualization is cloud:
Virtualization is a part of adopting cloud computing. One can say it is the stepping stone of adopting complete cloud solution, but they are not synonymous. Setting up private cloud environment in an organization involves extensive planning and modernization.
Critical applications are not for cloud:
Many organizations believe that hosting mission critical data and applications in a third-party hosted environment can be detrimental to their enterprise security. But this is again a myth. Data hosted in large cloud space offers better obscurity. And, since cloud services are attached to an IP even if the security is compromised reinstalling the security levels are as easy as changing the IP address of the system.