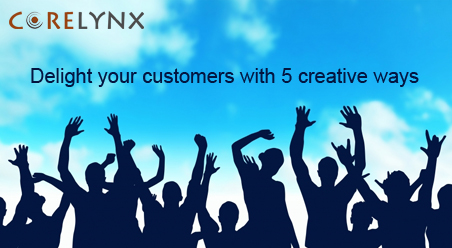 Posted by Paul Anderson
Delight your customers with these 5 creative ways
It's been endlessly proven that good service is what retains customers the most. Delivering good service immediately translates into high customer retention, increased brand loyalty and strong word of mouth recommendation. So it amps up the business sales too. PERFECT
But how can you deliver good service? You'll likely not be surprised to hear that great customer service really boils down to nothing but providing your customers with a 'WOW' experience.
However, in spite of knowing what needs to be done, businesses still grapple to deliver an amazing good service. If you suffer from the same predicament, don't worry. Read below the 5 exceptional ways to 'WOW' your customers in no time:
1. Start with an early surprise
Research suggests that when customers buy new products/solutions – in the first few days there are still some traces of apprehension in their minds. As a company, it's essential that you exterminate this apprehension by revalidating their decision.
Let's say: offer them an unexpected discount or a complimentary gift within the first 30 days of their purchase. This will indeed be a great surprise for your customers and they'll appreciate this gesture made so early in the buying process.
2. Invite them into your culture
Customers love to get an inside view of the products and services they have purchased. Give them this opportunity by inviting them in your workplace. (Trust me, guys, it'll be super fun). Make them meet your staff, get them behind-the-scenes exposure to understand the most fascinating aspects of your product or service development.
The experience will be enjoyable and your customers will certainly come an inch closer to your company.
3. Share Something Valuable
As a buyer – we all tend to extract more out of what we purchase. For instance, additional services and products are always a welcome. So capitalize upon this human psychology. Once the sale is done, keep offering/sharing some valuable stuff with your customers. This stuff can be anything related to your industry that will benefit the customers.
So let's say if you deal in fitness equipments, sharing weekly tips through your CRM software solutions on nutrition strategies will work really well. Customers will value your inputs and you will just not be a seller but a trusted advice-giver. How about that?
4. Use the power of Thank You Note
It really doesn't take much of an effort to say Thank You but we often take a lifetime to do so, without realizing how impactful can it be. The same applies for business-customer relationships too. There can be nothing more personal and touching for a customer than to receive a handwritten Thank you note from the company.
Although popular opinion suggests that technology has made the fashion of handwritten note a passé. The fact is that it still leaves a larger impact today than it would have in years past. And the biggest example to show this is the endless number of instances where customers have been truly appreciative of thank you notes. After all, it reflects the sentiment that you've gone that extra mile for those that give you business.
5. Meet your customers face to face every quarter
That's the best way to drive growth through both loyalty (retention) and advocacy. So meet with them to understand their business needs and analyze how your product and service can help them.
Tip: don't make the meeting look too formal. Calling them over a cuppa can be an interesting way. You'll be surprised at how many customers are at ease discussing the common grounds of business in a casual conversation over coffee.