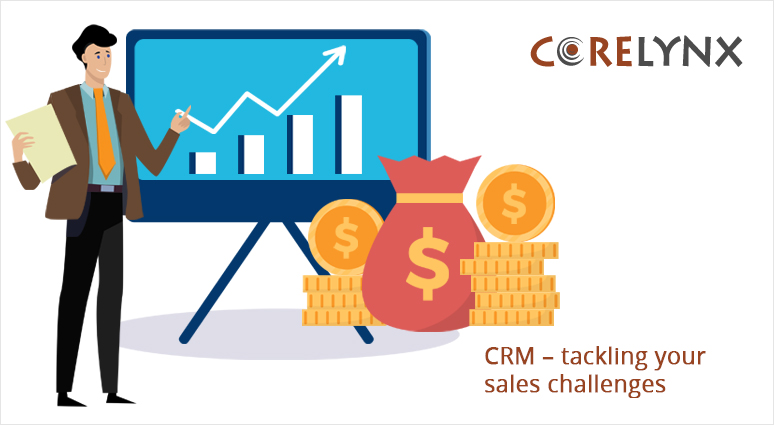 Posted by Paul Anderson
CRM – tackling your sales challenges
The fact that CRM offers comprehensive customer management solution to businesses across all verticals, has been said ad infinitum; It's time we move over it!
What we will talk about in this blog is the different challenges of sales and how a CRM tool can actually contribute to a team of sales professionals.
Inaccurate sales forecasts
Most organizations lose out on their valuable selling time, manually predicting the sales forecast. Just imagine the time your sales team waste compiling the data from different spreadsheets. Now imagine the same time being constructively used to contact the hot leads.
Accurate sales report (depicting the forecasts) helps the sales team be organized. And a CRM is the right tool to get accurate and precise sales reports. With features such as pipeline charts, quantitative analysis reports and dashboards integrated in your CRM system, your sales professionals will not have to work on assumed data.
Prolonged sales cycle
As mentioned-above a major chunk of work that a sales professional does daily is compiling sales stats. This inevitably makes the sales cycle long. How does a long sales cycle affect you? Let's decode it –
Long sales cycle = more resources and time spend = higher cost per lead. In total, your organization faces escalating costs of sales activities.
A CRM system shortens the overall sales process. With automated processes and streamlined data, sales professionals are at a better position to capitalize leads. They can easily prioritize the leads and deal with the important ones first.
Difficult access to customer's past transactions
Sales professionals forcefully act on gut feel when they cannot access the relationship history of clients. Imagine a sales professional contacting a client for cross sell when the client has already registered a problem with the help desk. Not impressive right? In fact, such incidents can portray you as an unsystematic organization.
A well-designed CRM system prevents the sales professionals from juggling with different customer data applications. Every detail centralized in a single record helps sales professionals easily peep into the order histories, identify the purchase patterns and plan sale strategies.
Loss of sales opportunities
According to a research, sales teams are the most dedicated team in an organization. So what is it that makes them unsuccessful to capture the leads generated? The answer is – disorganized allocation of resources.
Sales professionals require a system that streamlines all the lead opportunities and also helps them capitalize it; and this where a good CRM system comes into the picture.
With a CRM system in place, you can be assured of certain benefits such as –
Less likelihood of missed opportunities
Prompt action on leads generated through different channels
Automated e-mail alerts and reminders to help sales professionals schedule their activities better.
Having discussed the role of CRM solutions in sales activities, it makes complete sense to implement this tool for sales process automation. However, before you make the investment, make sure to choose a vendor specializing in business application development services. After all, to experience optimal benefits of a CRM system, you need to have it designed and developed from an experienced software vendor.