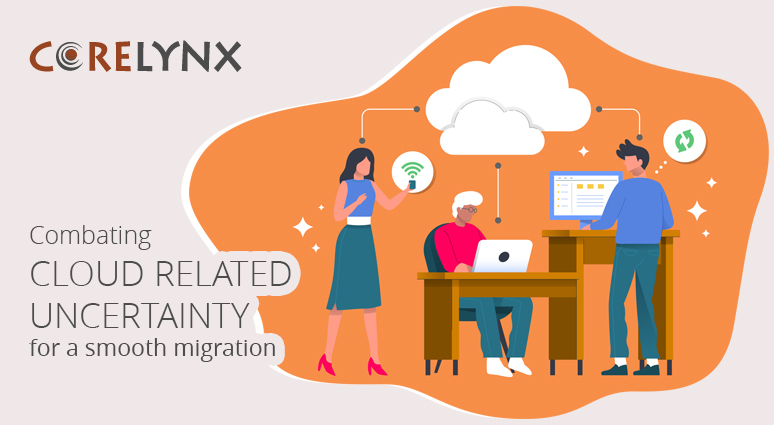 Posted by Paul Anderson
Combating cloud related uncertainty for a smooth migration
Are emotions such as uncertainty and fear preventing you from moving to the much in demand virtualized environment? If yes, then perhaps you are not the only one to feel so. Surprisingly, a section of IT executives have pointed out that doubt and uncertainty about different aspects of cloud computing and cloud vendors is troubling potential buyers.
What do we recommend?
The best way to tackle uncertainty about cloud is through a proper understanding of 3 fundamentals –
The operation system present in your organization
The section of clients that can be best served by your cloud applications
The type of cloud-based applications you need to push your organization's core competency.
Choosing the right Cloud Model
Cloud adoption is a major component of tech spending. To make this investment a gainful one, it should be done in sync with your present business model. As business experts put it, it makes no sense spending dollars on a cloud technology that does not fit into your business strategy.
Usually the first factor that most cloud buyers consider is budget. How much can my organization spend? How much extra can be put in to cloudify apps? The focus on budget is so high that other factors take a back seat. What's the solution?
Similar to budget, knowing the organizational operations, working model and long term-perspective is important. While the first two are precise, long-term perspective is an underrated term.
If one monitors the common factors considered while migrating to cloud environment, long-term perspective is perhaps the most neglected. Organizations fail to realize that adopting a cloud infrastructure without a long-term vision in mind can turn absolutely futile.
Ideally a planning of three years needs to be done in regards to cloud adoption. Let's say where you envision your organization in the next three years? How do you plan to take it to that position? – All these questions do hold an important role while adopting to cloud infrastructure.
How to save yourself from cloud washing tactic?
The practice of marketing an old product by associating the word cloud with it has become common. The rise of cloud washing can be attributed to the unprecedented popularity of cloud technology. As the number of organizations adopting cloud technology is on a continuous rise, many vendors are resorting to cloud washing to resell their old offerings.
This is precisely why it becomes important for organizations to be tactful in their selection of cloud based software companies. Renowned and experienced cloud vendors are always wise to hire. They follow a transparent approach and do not offer convoluted deals.
Asking a few questions to the cloud vendors is important. While the exact list of questions to be asked can vary (depending on your need), the common ones can be on data portability, data security, data accessibility, service outage, multiple pricing models, technical support team and service level agreement.
Apart from questioning the different cloud based software developers, a little research on your part also needs to be done. Business networks and analyst groups' opinion can always give you an exact idea of the different cloud service providers. After all, the best way to eliminate a vendor-related fear is through the right knowledge.