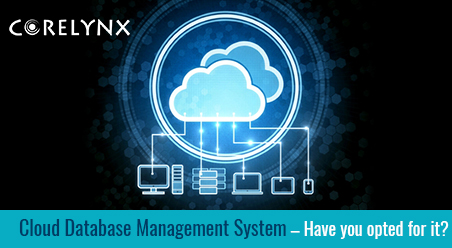 Posted by Paul Anderson
Cloud Database Management System – Have you opted for it?
Database Management System is a new emerging concept recently introduced in the world. And the factor that has given birth to this is Big Data. The onset of Big Data has turned out to be the goldmine for businesses. It has increased opportunities for businesses to capture overwhelming amount of information, analyze it and gain more visibility into the industry and customers. But simultaneously, Big Data has brought significant challenges for businesses. The challenge to how to manage large growing volumes of data.
Structured and Unstructured Data
The volume of data has exploded in these years. In addition to traditional data like business contacts and product intelligence, businesses have the added responsibility of tackling semi-structured and unstructured data constantly flowing in from all directions. According to IDC, unstructured data is growing significantly faster and very soon it will surpass structured data. The onus is on the businesses to keep both these under control for opportunities and regulatory requirements.
This, research has certainly put a lot of businesses in a soup. The drudgery of maintaining their own local database systems has taken away a lot of time and money, increasing operational cost and preventing focusing on other core areas such as developing products or services.
Cloud Database Management System
To tackle the challenges of traditional database system that is installed on premise and accessed over a local area network, comes Cloud Database Management System (CDBMS). It runs on a cloud provider's platform and data is accessed over the Internet.
In what follows below is the growing popularity of Cloud Database Management System along with its three different deployment models (referenced from WhatIs.com):
Growing popularity of Cloud Database Management System
The industry is rapidly embracing Cloud Database Management System. Some of the obvious compelling reasons are:
1. Performance: Cloud DBMS provides superior performance as compared to a locally-implemented Database Management System.
2. Budget: Cloud DBMS eliminates expenses, otherwise required for software, hardware and data center. This undoubtedly makes it an excellent option for SMBs with limited financial resources.
3. Staffing: Cloud DBMS frees database administrators from the hassle of configuring and patching on-premise DBMS. Right from installation and management to other administrative issues – everything is handled by the cloud provider.
Three different deployment models of Cloud Database Management System:
1. Virtual Machine: The cloud vendor provides the virtual machine instances upon which the database management system runs. The cloud vendor manages the infrastructure that supports the Virtual Machine and the customer purchases the DBMS and manages it too.
2. Database as a service: Businesses do not have to install and maintain the database. The cloud vendor installs and maintains the database, and businesses only pay for storage and compute resources. It is quite popular as the cloud vendor supports application and frees businesses from the responsibility of traditional database administrative functions.
3. Managed Hosting: The cloud provider installs, maintains and manages the entire database implementation. It is perfect for small and medium-sized businesses that don't have the budget to maintain an IT department needed to manage data in-house.
Point to Remember…
While cloud DBMS is a wise move, the benefits of it can only be reaped if the selection of the vendor is done right. As Baron Schwartz comments – "Choosing a provider can be a tricky proposition. You're essentially trusting a vendor with your company's data, and that's no small matter."
So it is advisable that businesses carry out extensive search and choose an IT infrastructure management service provider that's right for their work process. Isn't it?