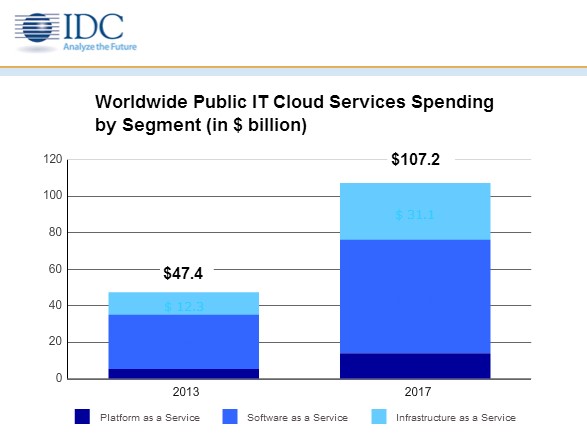 Posted by Paul Anderson
Cloud Computing – what has the leaders and statistics stated
Till date, cloud computing has created quite a stir in the technological world. Although the benefits of cloud have been discussed ad infinitum, experts feel that solid examples of cloud-enabled transformation have not been spoken enough.
In regards to this context, Saugatuck Technology conducted a research which involved 53 very senior IT and business leaders. These leaders were mainly the CIOs or CTOs, working in companies with greater than $1 billion in revenue.
The objective behind the research was to measure how important and impactful cloud has been in driving business expansion and innovation.
Interestingly enough, the main takeaway of the research was – Cloud Computing is not just about cheaper and better-run IT resources.
Elaborating further on this context, Saugatuck CEO Bill McNee has commented – ''cloud and its related technologies are not only about cost savings and internal process improvement. It is about innovating the way companies engage with customers and partners, and in terms of their ability to deploy profitable new business models."
Let's look at the important highlights of the research:
1. Cloud creates potential improvement opportunities for the business: According to a participating business leader (CFO of a manufacturing company) – ''Opting for cloudERP software development proved to be a turning point. Cloud ERP solution impacted our business's ability in manufacturing and quality standards, thereby, meeting customer requirements for the better.''
2. Combination of three forces: According to the business leaders, forces affecting businesses these days include mobility, cloud and advanced analytics. While separately they're having an impact, but when combined, the impact is even stronger.
Elaborating further on this context, CTO of a large hospitality company has stated – ''Combining mobility, cloud and advanced analytics have enabled organizations to transform data into collective awareness. Thanks to Cloud solutions (offering mobility) that has enabled our sales directors to function at their best while meeting clients around the world.''
3. Bringing speed to market: Inevitably, cloud has facilitated speed to market. Explaining this point further, CTO of a media company has stated – '' as a media company cloud-based delivery platforms have been key for our distribution needs (e.g. what the postal service did last century, cloud is performing now). Especially as it pertains to rich content and content that's reformatted for various devices. All our digital delivery platforms – web, tablet, smartphone rely on infrastructure, services and software to provide rapid innovation and delivery."
The research is published on the Forbes website. Click here to read the full story.
What the statistics say?
Considering the immeasurable benefits that business leaders of different verticals are experiencing from cloud, cloud adoption is expected to soar high in the coming years.
The following is a summary of the latest cloud computing forecasts and market estimates (published in a recent Forbes article).
1. Gartner predicts that the bulk of new IT spending by 2016 will be for cloud computing platforms and applications. Half of large enterprises will have cloud deployments by the end of 2017.
(Source: Gartner Says Cloud Computing Will Become the Bulk of New IT Spend by 2016.)
2. Worldwide cloud-based security services market will be worth $2.1B in 2013, rising to $3.1B in 2015.
(Source: Gartner Says Cloud-Based Security Services Market to Reach $2.1 Billion in 2013.)
3. Gartner predicts in the next five years, enterprises will spend $921 billion on public cloud services (2013-2017)
Source: Cloud Computing 2014: ready for real business?
4. IDC predicts public IT cloud services are expected to be more than $107B in 2017. Over the 2013–2017 forecast period, public IT cloud services will have a compound annual growth rate (CAGR) of 23.5%, five times that of the IT industry as a whole.
5. By 2017, IDC expects public IT cloud services will drive 17% of IT product spending and nearly half of all growth across five technology categories: applications, system infrastructure software, platform as a service (PaaS), servers, and basic storage.
6. Software as a service (SaaS) will be the largest public IT cloud services category throughout the forecast, capturing 59.7% of revenues in 2017.
7. The fastest growing categories will be PaaS and Infrastructure as a service (IaaS), with CAGRs of 29.7% and 27.2%, respectively.
(Source: IDC Forecasts Worldwide Public IT Cloud Services Spending to Reach Nearly $108 Billion by 2017 as Focus Shifts from Savings to Innovation.)
8. Forrester predicts the Asia-Pacific cloud computing market will grow from $6.9B in 2013 to $31.9B in 2020.