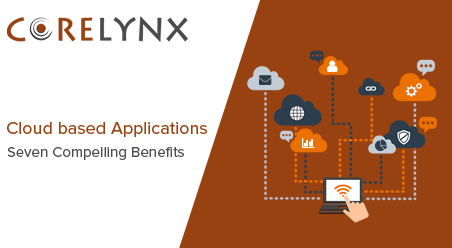 Posted by Paul Anderson
Cloud based Applications – Seven Compelling Benefits
The worldwide cloud computing market is expected to reach the milestone figure of $19.5 billion by 2016. That is approximately 36% compound annual growth rate.
– Forbes
Given this rapid growth in cloud computing, it becomes essential to learn what are the main factors that are driving the popularity of cloud based applications and cloud based software companies. Cloud based applications bring several benefits over to a business.
Here are the 7 top benefits:
1. Improved Security
The beginning of cloud computing trend saw data security as one of its major loopholes. Consequent of which, both large enterprises and small and medium-sized businesses were skeptical of using cloud based applications and chose to rather stick with server-based programs. However, as cloud computing evolved, the loophole of data security got accurately filled up.
Today by all means, cloud based applications are equally secure because of the huge amounts of money that cloud providers invest into securing their site-specific infrastructure. This averts any kind of loss, illegal procurement or other damage to data stored in the cloud. So unlike locally-hosted software that is always vulnerable to virus, data loss, identity theft, intellectual property theft and so on, cloud based applications face none of these.
2. Faster Disaster Recovery
Downtime in crucial software applications such as Accounting, CRM and ERP damages the business productivity by 40-50 percent. That is quite a devastating consequence for any business.
According to Aberdeen Group: the downtime of cloud based applications is 2.1 hours in an average compared to in-house applications that usually take up to 8 hours.
So the factor of 'software downtime' which is a major concern for businesses – gets resolved with cloud that offers minimal or no downtime. Businesses who use cloud applications experience quick recovery, in a sharp comparison to their competitors.
3. Minimized Costs
Experts recommend cloud based application to small and medium-sized businesses, because it offers significant cost savings. For example, cloud computing services are pay as you go and eliminate the need of any dedicated hardware. So businesses really do not have to invest on purchasing and maintaining expensive servers to address the cloud environment.
In short – it is Cap-Ex free and because of this it is much faster to deploy and have predictable ongoing operating expenses.
Simultaneously, IT staff cost also goes down, as cloud providers take the onus of maintaining and troubleshooting software-related issues. Software updates are a part of cloud-based software service. This prevents businesses from purchasing and installing software upgrade packages.
4. Easy Scalability
For most businesses, workload fluctuation is a common scenario. As a result, they are often compelled to invest on excess infrastructure to ensure satisfactory performance in the peak period. However, for the rest of the time the excess infrastructure remains idle.
Cloud applications eliminate this problem completely. Using cloud based applications, businesses only need to provision for the infrastructure they require on an average. On peak times whenever businesses need more bandwidth, they can instantly scale up and later can shed off the excessive storage hired.
It is due to this flexibility and scalability that 65% of businesses have moved to using cloud based applications. Now they can programmatically acquire new space in the cloud or add more users, as and when required.
And the best part? With cloud based applications, businesses only pay for the space they use. Thus, minimized IT expense.
5. Increased Employee Productivity
Cloud based applications foster greater collaboration and work productivity. That is because they allow the workforce – wherever they are – to access information and work. This flexibility helps in maintaining work-life balance and also foster internal and external collaboration.
A survey by Frost & Sullivan states that 40% of businesses have invested on cloud applications, in consideration of the increased mobility, flexibility and efficiency associated with them.
6. Ease of Set-up and Highly Customizable
Cloud applications don't need to be installed and are easy to learn. End users with little to no tech know-how can easily get on with cloud-based applications. Moreover, nowadays many cloud based applications are available for free trial. So businesses get the advantage to check whether the application suits their need or not.
Also as per a blog published in Paychex, cloud applications are easily configurable than in-house apps. Most often businesses themselves can program the application. In other cases they can go to the cloud-based software companies who tailor the products to the very specific needs of the client.
This attribute makes them highly favorable in today's time when businesses generally look for means to mold their applications.
7. Reduced IT management effort
Large-scale IT management is inherent to in-house applications. However, with cloud based applications, there is no such obligation! Software maintenance and troubleshooting is handled by the cloud providers that frees the employees to focus on core activities, instead of being engaged with IT management tasks.
Having read the unsurmountable benefits of Cloud based Applications, does it makes sense to not use them?
Corelynx is one of the renowned cloud-based software companies. Whether you want to migrate your existing in-house applications or develop cloud based applications from scratch – we possess the best expertise to handle your requirements for Private, Public or Hybrid Cloud. Contact us to discuss your requirements.
Have queries related to cloud computing? Share it with us below and our team of experts will provide you the best possible insight.