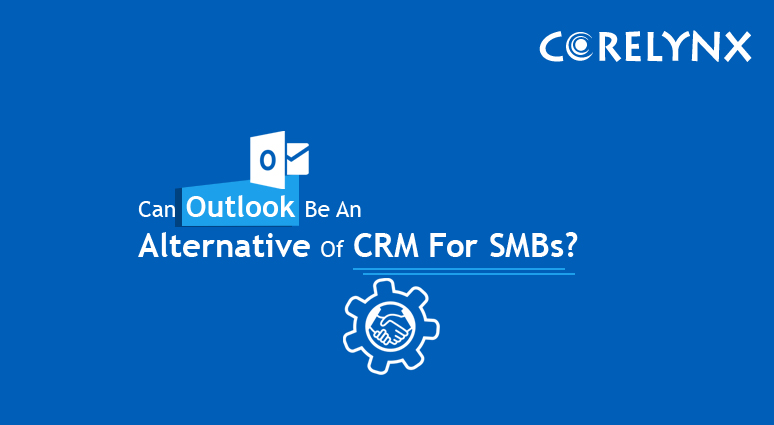 Posted by Paul Anderson
Can Outlook Be An Alternative Of CRM For Smbs?
There are many opinions both in for and against of using Microsoft Outlook as an alternative for CRM software. Adoption of CRM solutions among small businesses has always been affected by the high cost of the product. On the other hand Outlook is available free of cost and is easily installable on your system. But, can Outlook be a serious replacement for CRM software?
Well, Outlook does come loaded with features like email management, contact management, to-do list management, calendar management, follow-up management etc. that are also available in a contact management CRM product. Small companies that are looking for a simple contact management system and only have handful of contacts to manage can use Outlook for that purpose. So, it can be used as an alternative for small business CRM for limited use. But when you need a more comprehensive solution for your enterprise requirements, Outlook may fail to deliver.
Outlook has only limited use when it comes to link documents to a contact. If one needs to track or access all the files, photos and PDFs shared with the contact then one can't do so by using Outlook. It doesn't automatically archive or link documents to the contacts stored in your contact book – a feature available with CRM software. However, some of these issues that been dealt with in Outlook 2007 version but it's still a far cry from comprehensive CRM solutions.
Secondly, although you can create mail folders for separate contacts in your inbox you'd need to drag and drop each mail, every time, to sort them. This you can do till you have only a handful of contacts to manage but as your business grows it becomes impossible. Many available CRM solutions have auto email linking feature which automatically sorts and links mails under each contact name.
Lastly, Outlook is not an option for SMBs that want to create a unified, collaborative platform for data sharing. It can only track mails and contacts on your system but doesn't allow sharing between multiple users. Although you can integrate sharing features by installing an exchange server but it is an expensive solution compared to some of the CRM products that allow contact and data sharing as default functions.
SMBs that can't make large investments towards legacy CRM installation can take advantages of using web-based CRM software. Web-based customer relationship management system does not involve implementation of hardware and networking infrastructure as the services are delivered over internet.