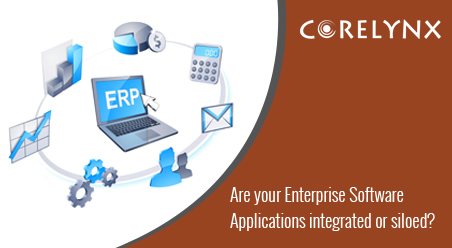 Posted by Paul Anderson
Are your Enterprise Software Applications integrated or siloed?
Every large-scale business grapples with the management of its operational process. So they opt for software applications that not only gives a competitive advantage but also saves money and time. With no room for human error, they make business management easy and efficient. Great!!

But in spite of implementing the best of software applications, seven out of ten enterprises complain of insufficient ROI. Why? Let's find out –

It is observed that most entrepreneurs perceive software applications as a gateway to success. It is a magic pill to their eyes that guarantees increased top-line revenue and reduced costs. And hence, in the lieu of experiencing these compelling benefits of software applications, entrepreneurs go on to a buying and development spree.

They start off with installing Accounting software and move onto Customer Relationship Management Software Solution and Enterprise Resource Planning. At the end, everything from customer relationships, fulfillment systems, business intelligence to inventory management and opportunity management gets addressed and managed with enterprise software systems.

But while they gift their business the best of enterprise software applications, they fail to realize the unnecessary burden that their process carries now.

Paraphrasing the words of Kate Jennings – Seventy percent of entrepreneurs commit the grave blunder of entangling their business in a complex application landscape. In the quest to acquire greater efficiency, they make impulsive decisions of implementing multiple software systems. Eventually their business gets caught up within a network of standalone applications that do not communicate with each other and work in siloed departments. This tangled web of siloed software systems slows down the operations and cripple business growth.
Disadvantages of a Siloed Software System

1. Partial Visibility: Siloed applications do not operate in unison. Consequent of which, information that should be shared across applications gets trapped in watertight compartments. Inevitably, this prevents businesses to get a 360-degree view of performance in a timely fashion. Entrepreneurs are challenged with un-integrated, multiple overlapping databases. And to acquire an integrated view of the operations requires data to be tediously ported across applications. Several hours are wasted trying to source, extract and analyze the data that compels businesses to make critical decisions slowly.

Quite likely after a point, businesses stop the practice of streamlining data because of the huge amount of time it entails. This poses greater threat as decisions are based on incomplete information or out of gut instinct.

2. Reduced Employee Productivity: The presence of siloed applications hamper the productivity of the employees as well. For instance a task that can be completed in an hour takes double the time, simply because the employee has to spend the first half of the time, acquiring a complete data view from multiple disjointed applications. Employees get weighed down with labor-intensive manual tasks where they are required to spend hours just re-entering the information from one system to another. Any modification/change compels them to sift through mounds of data again to update the information.

As a result, complex application landscape prevents employees to concentrate on important core duties and indirectly obstructs the business' growth in the long run.

Enterprise Application Integration (EAI)

To keep the business growing at a dramatic rate, it is essential to have all standalone software applications integrated. This is precisely where, Enterprise Application Integration (EAI) comes into the picture. It is a one-stop solution for businesses who are caught up in the web of siloed software systems and are keen to bridge gaps among different software programs.

Paraphrasing the words of Kelly Giannino – Most businesses do not build and design their software systems around a single codebase, database and business process. The disadvantages of not designing systems in this manner is multifarious and affects cost savings and productivity. The best way for entrepreneurs to get out of this plight is Enterprise Application Integration (EAI) that enables smooth flow of data from one program to another and allows businesses to realize the full benefit of software investments.

Benefits of Enterprise Application Integration

1. Smooth Information Flow

Unlike the previous instances where information would get trapped within the confines of each application, EAI enables smooth flow of information across separate software installed in a business process. This serves a great benefit for the entrepreneurs who do not have to invest human resources to consolidate data and eliminate redundancies. They can redeploy staff to higher-value activities to help business innovate and grow.

2. Quick decision-making

Enterprise Application Integration creates a single point of access to updated data. That means employees spend less time searching and updating information. This fosters quick decision-making because employees can access information instantly without wasting time on data extraction and streamlining. Therefore, they get empowered to make more accurate, faster decisions.

3. Reduced IT Complexity

Enterprise Application Integration tackles the challenge of user adoption. It combines the information and functionality of all enterprise software applications into a single easy-to-use interface. This benefits the end users who do not have to struggle learning each application's functionality. They can use all new technologies effectively without having to undergo any major training sessions.

4. Improved Customer Relationships

Customer acquisition and retention are two pillars of a business success. But both these pillars go weak in the presence of a siloed software system. That is because employees spend hours to get a 360-degree information on any matter – which in turn irritates the customers who get delayed service and response. Enterprise Application Integration streamlines data and creates a single point of access. This ensures that employees instantaneously get all information they need to promptly serve and sell to the customers.

5. Increased Agility

It is observed that businesses who opt for enterprise application integration experience greater agility. Their process is no longer trapped in the web of siloed software systems which makes them nimble enough to recognize and respond to market opportunities more quickly.

Conclusion

While every enterprise is hell bent on embracing the best of software applications, very few realize the full benefit of software investments. If you are one of those, check and review your business process. If you find it trapped in the clutches of disparate siloed enterprise applications, then enterprise application integration is your one-stop solution all the way!!