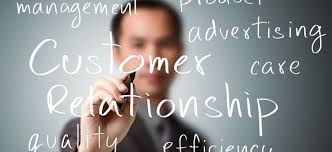 Posted by Paul Anderson
Are you buying CRM right way?
Wading into the waters of buying CRM? If yes, by all likelihood you will require a fail-safe plan to evade the tones of buzzwords about to come your way. Confused? Read further –
There has always been a hell and a heaven difference between consumer products and software application purchase. While the former has had a run-of-the-mill selection process, software investment has been a long-planned one. However, with time, the line between the two has got blurred.
In the words of Charles Tatum – ''although CRM buying process is different than buying consumer products, the fact is that even in CRM selection, most business entrepreneurs are falling prey to sales hyperbole. And the best example to substantiate this fact is the list of LinkedIn's top ten sales buzzwords released in 2013. Although all of the terms are generic-based not specific to any particular industry, it's not hard to imagine how these terms are being used ubiquitously to sell CRM. ''
How is the ever-presence of buzzwords influencing CRM selection?
The excessive use of catchphrases by CRM vendors has already started affecting CRM software solutions buying process. Reportedly, it has become a common denominator among most CRM software providers to pitch their products with buzzword-rich lingo. In fact sales reps are specifically trained to explain their CRM packages using a fair share of product jargons. And unsurprisingly, majority of business decision-makers get easily carried away and select a CRM not entirely based on their organizational needs.
What can the businesses do to evade this predicament?
Experts recommend a careful planning and evaluation process as the best way to avoid falling into the trap of fancily-worded CRM feature sets. Once an organization takes time to develop a comprehensive CRM plan and strategy, it will develop a list of core features and functionality to evaluate each CRM vendor. In sum, it will have a clear picture of the type of CRM application required. Business entrepreneurs or for that matter business decision makers will become less susceptible to being influenced by marketing and sales overstatement.
For those about to embark on, or currently in the middle of the CRM evaluation process, below enlisted is a few recommended steps:
1. Hold a session with End Users
This is a no-brainer. If you want your CRM investment to be a productive one, it is essential that the CRM application gets used across the organization. And this can only be possible if the CRM solution is selected addressing the needs of both management and end users.
Explaining this context better, Mark Johnson states – Remember that customer-facing employees spend all their time interacting with customers/prospects in one form or the other; which is why they have a comprehensible idea of the inefficiencies and user pain points with the current organizational systems. Consequently, they can cite them before you and also suggest creative solutions which can be included in the CRM.
Benefit: the management can become aware of customer dissatisfaction arising out of organizational inefficiencies which otherwise would have remained in the dark.
Also, prioritizing the opinions of the end-users will definitely make them feel important. Resultant to which, they will act as active CRM participants once the CRM solution is rolled out.
2. Consider your Budget
Small or big, local or global: irrespective of the size and nature of the organization, budgetary concerns will play a major role in the selection process. However, unlike 5-10 years back when CRM was primarily considered a privilege for the large MNCs, the CRM market now supports enterprises in both camps. Thanks to the technology of cloud computing that has put a full stop – to the series of trauma small and medium-sized enterprises had to face after deploying on-premise software applications.
Now with cloud-based CRM applications, there is literally no headache of servers, storage, disaster recovery, networking capabilities and an in-house IT staff. Not to forget the annual maintenance fee and integration cost which also goes out of the window.
However, stating that cloud-based applications are embraced only by the organizations facing financial limitations will be wrong. Gartner, Forrester and Ovum – all three have released several reports which has cited the rising number of large companies employing cloud-based applications because of advantages such as reduced labor costs and hardware requirements.
3. Vertical Market Requirements
Most renowned CRM vendors have gone deep into vertical markets by creating industry editions. You too can look for such CRM vendors who specifically design and develop a CRM solution suited to your industry type. Opting for customized CRM software holds specific relevance for industries that –
Deals with unique forms of customer data
Customers use a non-standard path to buying
Use of channels (resellers/distributors)
Need to manage different tiers of communication, namely – customer relationships with partners, direct customers and so on.
In any of the above-mentioned scenarios, it is advisable to choose a customized CRM solution tailored to your vertical industry.
Experts recommend scheduling tailored presentations. You can pre-brief to the prospective CMR vendors about your organization's current state and desired future state. Based upon your company's functional areas and the roles within it, they can put up a customized demonstration of their solution.
To increase their chances of selection, most of the vendors will put up a complete picture as to how their solution will solve your organization's most important business issues.
Note: Most likely, a single presentation will not be enough for you to finalize upon a vendor. A subsequent technical session will be helpful to ensure that the benefits of the solution can be visualized and understood in relation to your organizational loopholes.
4. Vendor selection
Post a thorough analysis, the last thing you'll want is that your vendor over-promises you and ultimately under-delivers. Or worse is not able to support you in the future. This is precisely why it is of unequivocal importance that you choose a reliable CRM software provider.
Following are a few of the steps you can execute to zero in on the right CRM vendor:
Examine vendor's track record
Check in with the vendor's references. Ask if the CRM implementation was genuinely transformative. Inquire about the CRM vendor's role in it.
Research in social media about the reputation of the vendor.