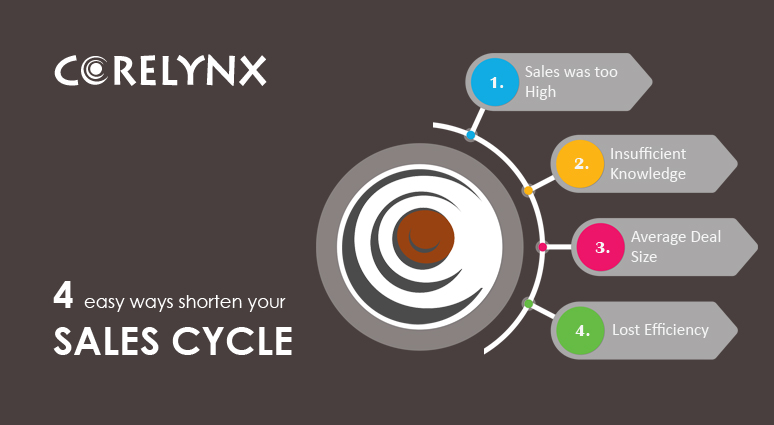 Posted by Paul Anderson
4 easy ways to shorten your sales cycle
Shortening the sales cycle is high on priority on any sales manager's wish list. Wonder why? It is due to the extreme length of the sales cycle that sometimes prospects just don't see enough value to act. In fact most often when the customers take too long to purchase; it has nothing to do with the products but to do with the internal sales processes.
And while the existence of waffling customers and slow-moving purchase committees cannot be erased immediately, sales teams can take a few initiatives to abridge the sales cycle – for a better win rate and cash flow.
In May 2010, Aberdeen Group released an important report stating the reasons companies' sales cycles are long. According to the report some of the reasons of a long sales cycle were:
32% reported that the cost of their sales was too high
27% claimed they had insufficient knowledge of prospects in the sales funnel
27% said the average deal size or contract was too small
26% said they lost efficiency when they recreated proposals or contracts.
How can you reduce the sales cycle?
1. Identify the Perfect Customer
Review the historical sales data (from the CRM). Set customer categories and review the profitability data for each. Decide what percentage of prospects can be converted from leads into qualified leads and then to actual paying customers.
Once you have built the list of customers, develop relevant messaging for each of them. If at all possible, interview the customers about their concerns to gain more insight.
What are the challenges they are facing?
How high is their urgency to resolve?
What alternative solutions are they considering?
What is their current stage in the research process?
What is their time frame to purchase?
Is the prospect willing to talk to your sales rep? (Remember getting in early will provide you an opportunity to influence the prospect better. If you wait too long, your company can be an outsider with slim chances of winning.)
Note: If they don't meet the sales-ready condition, then move them into a separate track and don't waste the sales team resources.
2. Centralized customer relationship management system
CRM software solutions or for that matter any other repository of accurate, up-to-date customer/ prospect information is vital. It addresses some of the crucial issues preventing enterprises to develop a faster sales cycles.
In the words of a CRM strategist – "CRM software is no less than a prerequisite to efficient and effective selling. It provides the sales reps comprehensive customer information which further gives them the opportunity: to schedule their activities in advance, eliminate redundant tasks, prepare for the conversations, identify up-sell opportunities and keep them in high atop in the funnel."
3. Capitalize the social media
Big-breed companies (e.g. Old Spice) have converted Facebook and Twitter campaigns into hard dollars. On the other hand, others have got lost in the online chatter or have produced less impressive results.
Bill Rice, cofounder of Kaleidico, has commented – "In spite of the varied results, one thing is certain: All businesses should develop a social networking presence to interact with the buying public. Organizations should not forget that relationships are the foundation of selling. So if having a Facebook/Twitter relationship is important to your prospect, then it should be important to you as well."
Having built a trusted relationship with the prospects/clients over social media will benefit immensely. It will help organizations quickly add valuable relationships to the prospect's network, thereby shortening the lengthy sales cycle.
4. Web-enabled analytics tools
CRM software integrated with web-enabled analytics tools helps sales reps anticipate sales, assess performance and avoid business bottlenecks. Using the CRM analytics, they can compare sales cycle performance under different criteria (such as sales team, sales person, product, region etc) to understand which sales cycles are taking longer than others.
Final Thoughts
According to leading industry reports, savvy sales leaders are using CRM software, to remove many of the sales-related mundane tasks. Consequently, tasks such as repetitive typing, duplicate entries and track of orders and prospects have been automated or reduced to the minimum.
Ultimately the goal is to enable sales representatives pursue leads within shorter sales cycles, for incremental revenue of the organization.