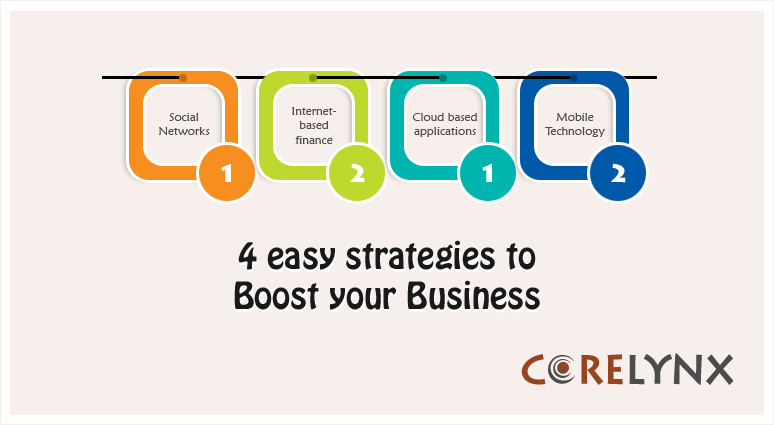 Posted by Paul Anderson
4 easy strategies to boost your business
Small and medium-sized businesses across the globe are heavily relying on technology. The aim is to strengthen marketing, sales and customer engagement activities. The vision is to bring a quick growth to the company and pose a stiff competition to the BIG PLAYERS.
Places like United States (where everyday new ventures come up) are the biggest example of the above-mentioned trend. According to a report released by Gartner and Forrester, US-based SMBs and SMEs snap up new technology fast. They invest on avant-garde computer and internet systems for a speedy growth.
Having discussed this, what becomes clear is that making the business technology enabled is the call of the time. As Gartner reported earlier this year – ''Technology adoption is the best way to drive relative advantage over competitors''. And consequently what we will discuss in this blog are 4 new technological strategies that can supercharge your business – just the way you want.
1. Social Networks:Within a few span of years, social media has become the obvious vehicle for business marketing. Facebook, Twitter, and LinkedIn are the three different social media networks you can target. Let's say an online campaign about your products/services can be the strategy to enhance your company's branding and visibility. Direct message or promotional offers can increase traffic and help you interact with a greater mass of audience.
How do you develop a social media strategy? Before you join the social media bandwagon, make sure to plan the strategy of doing so. You need to first identify the online platforms and communities where your potential customers spend maximum time. Next should be the plan of action of creating compelling content which your target audience does not get elsewhere.
2. Internet-based finance: Yes, you read it right! The recent buzz in the corporate sphere is the development of crowdfunding. To explain it in layman terms, now businesses have the flexibility to sell small amounts of equity to multiple investors over the web. Experts believe that post the implementation of the JOBS Act, crowdfunding will be an accepted method of funding small companies and ventures. SMB owners who can persuade the small investors about the benefit of their products/services will be able to take advantage of this fad.
3. Cloud based applications: As per one of the leading technological analysts – ''the term cloud is no less than a technology paradigm shift for companies''. The very fact of delivering hardware and software services over the web has enabled the small and medium-sized businesses to get hold of the most essential software applications. Thanks to cloud and its range of shrink-wrapped solutions that high upfront technological investments have given way to low infra cost, automated systems and cheap storage.
4. Mobile Technology: It will be wrong to say that mobile applications on smartphones only download music or provide maps and directions. Indeed, they are doing more. Most smartphone users are using their phones to transact and do business. And in this scenario if you can get your name in front of your customer when they use their cell phone – nothing like it!
Experts suggest that most companies are hesitant to invest much time and money in mobile apps. Result – they create low-value apps poorly suited to a phone screen. To gain the optimum benefit of mobile technology, SMBs need to design high-value apps that people can use every day.