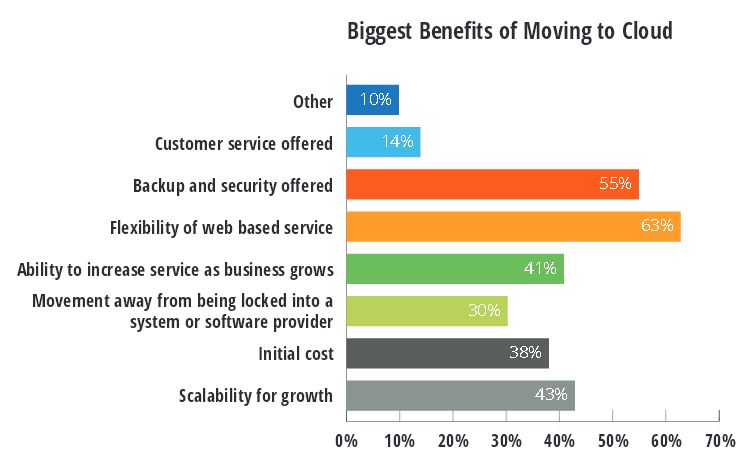 Posted by Paul Anderson
The 3 Most Popular Trends among the Small to Medium Sized Businesses
Small-to-medium businesses are something to watch out for in the year 2015 – Gabrielle Harel
This statement has created quite a stir in the business community. And why wouldn't it be? Looking at the speed at which the small and medium-sized enterprises are going up the ladder of growth and innovation – they're no longer witnessing the change but being the change themselves.
This blog takes gives you a walkthrough of the three latest fads adopted extensively by the fast growing small and medium-sized businesses across the world.
If you own a small business and look for the hidden tactics by which your peers are growing up their business – here's a good chance to discover the mantra that most small businesses are using:
1. Business Applications
Business Applications is at the core agenda of most small businesses. Realizing the multifarious benefits of new-age business applications, small businesses are relying heavily on them for day-to-day operations. Some of the common names on the must-have list include – Microsoft Office, Xero, Quickbooks, Dropbox, Adobe, Photoshop and Skype.
Customer Relationship Management (CRM) System, Project Management System and Email System are high on usage. Reasons cited for the importance of these technologies include strong emphasis by the small businesses on
Customer Communications
Customer Journey Mapping
Finance Management
Quoting the words of Mike Hulse – "Small businesses across the globe are emphasizing upon the aspect of streamlined communications. Additionally, Easy collaboration with employees/team members,Tracking projects and finances and Instantaneous sharing of files are high on priority list. You can say there is an inherent desire among the SMBs to be always connected and to achieve efficient delivery of product and services for complete customer satisfaction".
2. Cloud
67.5% SMBs have virtualized their setup this year in a strong contrast to just 56% in 2013.
While all three service models of cloud computing has seen a marked rise, Software as a Service (SaaS) dominates the world-wide adoption:
Software as a Service (69.7%)
Platform as a Service (45.2%)
Infrastructure as a Service (24.5%)
The rise in the uptake of cloud based applications clearly demonstrates that cloud computing has become an integral part of the small business operations. While there are compound reasons that has encouraged SMBs to take up cloud – the main benefits cited for cloud software are:
Flexibility
Data backup and security
Scalability for growth
No vendor lock-in
2014 Smart Company Business Technology Survey cites the seven main benefits for which SMBs across the world are opting for cloud based services. Take a look –
3. Mobile
Mobile and small businesses have become a natural match. Almost in the opinion of all SMB entrepreneurs, mobile solutions have actually given them an advantage to battle it out with their bigger rivals. Here are four ways how the mobile revolution has begun to level the playing field for all the businesses:
Affordability
With a little creative thinking and an eagerness to create an interactive user experience, small businesses are creating apps for better business management. Unlike other tactics that require investing in much capital, the cost-effectiveness of mobile apps has brought them within the reach of even the smallest businesses.
Increased Customer Engagement
Mobile apps have enabled the SMBs to make their customers interact with them anytime, anywhere. By making their business available on the phone, SMBs have unprecedented opportunities to engage with their customers 100 times more.
Through the apps features like, scheduling and click to call, SMBs are encouraging users to take a more active role.
Increased Sales
Mobile Apps have become the newest member of small businesses' sales team. Right from mobile shopping carts, comprehensive menus and catalogs, loyalty cards, to coupons on products and services – SMBs are loading their apps with different capabilities.
The objective is one: to make it more convenient for users to make purchases on the go
With an estimated 87% of buyers stating they use their mobile devices for shopping, SMBs are capitalizing upon the mobile solutions to function as a great sales resource. In short, for small companies that need to make the most of every dollar spent, mobile is functioning as a sales game-changer.
Better Marketing
Mobile Revolution has remade the rules of marketing. Small Businesses are getting their app on the marketplaces to enable the users download the app and start engaging with the business.
Gil Harel states – "the benefits of mobile revolution also evidently explain the reason behind the high-end fervor for cloud based applications. Small businesses are making every possible endeavor to leverage the mobile revolution and cloud based applications is one of the key steps to do so. Day in and day out, SMBs are approaching cloud based software companies to design and develop cloud apps that are available to their potential audience from any internet-enabled device."
2014 Smart Company Business Technology Survey also mentions the current fervor of mobile revolution among small to medium sized businesses.
Taking excerpt from the report –
"When asked the small business entrepreneurs of being able to do all of their work on a smartphone or tablet is valuable, there is a strong response in favor. For 40.71% it is "very important", while for 24.96% the option is "priceless". For a similar number (21.95%) it is "useful"."
Check the graph given below:
The above response reflects the mobile work practices and more flexible hours being implemented in many SMEs.