Mobile Application Development
Research bodies Gartner and Forrester have predicted the exponential spurt of smartphones in the next five to ten years. The present situation already proclaims smartphones as the 'most used device' for access to the Web. Resultant of which, the popularity of mobile apps has also grown rapidly, with more than eighty percent of people carrying out most of their activities through these applications.
In lieu of this fact, most of the BIG names have gone for mobile application development to mobilize their business activities; increase efficiency of their employees and tap new consumer segments.
If you too want to capitalize on the mobile app trend, then Corelynx stands as your one stop solution!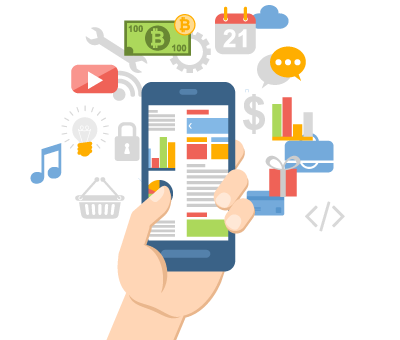 Our mobile application development solutions help you accomplish the objective of delivering smooth and convenient mobile experiences to your end-users. Whether it is the creation of consumer-facing apps or enterprise-grade apps that automate complex business processes, we hold proficiency in building mobile applications, supporting a range of devices and operating systems
With hundreds of technology players in this arena, we are a select custom mobile application development company to offer an end-to-end portfolio of services that involves development, testing, integration and maintenance.
What benefits do we provide you in mobile application development services?
Extensive Industry Experience

We have worked in a wide range of industry verticals – technology, retail, telecom, healthcare, hospitality, banking, insurance, media and public sectors. This industry experience gives us the advantage to easily understand the clients' ideas, analyze the business needs, anticipate project requirements, design the app framework that optimally meets the project's objectives and eventually deliver a cutting-edge mobile solution.

Technically-skilled Team

Our pool of mobile app developers are well versed in native technologies, namely – iOS SDK, Cocoa Touch, Xcode Objective C and Android SDK and cross platform technologies including HTML5, CSS3, Core Javascript, PhoneGap, Sencha Touch, jQuery, AngularJS and BackboneJS. This makes them adept in building efficient and high-performing native, hybrid & web apps for all three platforms — iOS, Android, or Windows.

Less Time and Money

By building mobile application with the best tools and team of UX experts and software engineers, development and implementation happens at a rapid pace that reduces the cost and time involved.

Balance of Features and Usability

We offer a unique blend of intuitive user interface and advanced functionalities, which results into all our apps holding the best of features and simultaneously being highly interactive to use.