CRM Technology Solutions
We provide end-to-end CRM software services to start-ups, small and
medium-sized businesses and large enterprises. Our team utilizes extensive domain knowledge, proven technologies and advanced implementation methods to build, deploy and manage Customer Relationship Management software solutions.
Operating since 2005, we possess significant experience in working upon CRM solutions for a variety of industries. It is these years of experience that enable us to deliver services on a broad range of CRM requirements such as :
CRM Consulting
Our consultants understand the uniqueness of every business process, conduct architectural review, evaluate software priorities and accordingly define the CRM strategy and goals.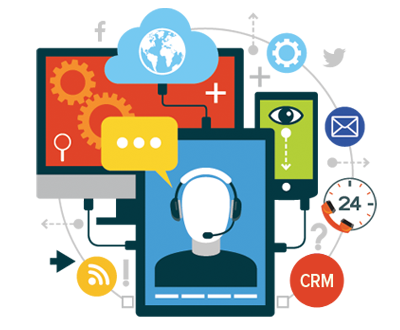 CRM Application Development
Our experts use the best practices, technologies and tools to build CRM application that streamlines the entire business process and empowers clients to effectively manage their sales, marketing and customer support touch points from a single and comprehensive platform.
CRM Customization
We hold strong customization capabilities and can easily modify, add or subtract functionalities within existing CRM systems, depending on the client's business requirements. We also do upgrades of old CRM systems by integrating them with the best of new technologies and features.
CRM Integration
We hold expertise in seamlessly integrating CRM software solutions with in-house or third-party applications and thereby creating a more efficient and improved business process for the clients.
CRM Support & Maintenance
We provide round-the-clock on-time CRM support and maintenance services to ensure that clients continue to reap the benefits of their CRM application uninterruptedly.
What makes Corelynx, one of the best CRM software solution providers?
At Corelynx, we understand the importance that CRM software holds in every business process. That is precisely why each of our CRM project is worked upon with the best technologies and strategies to deliver a powerful, scalable and easy-to-use CRM system that offers a bunch of benefits:
Better customer relationships
Increased cross-selling and up-selling opportunities
Improved marketing ROI
More deal closure.