Salamander Designs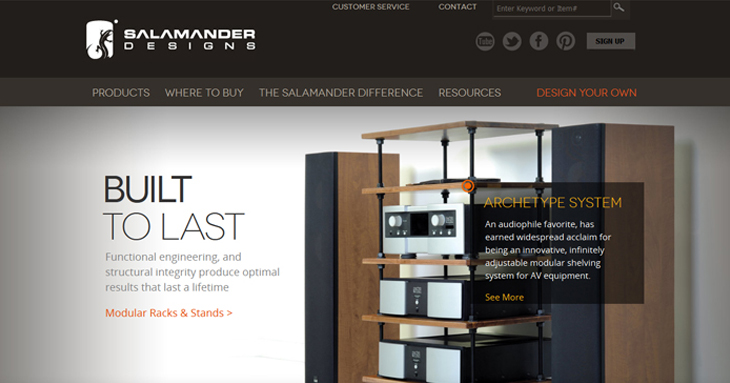 Cloud Computing
Salamander Designs
Project Objective
The client is a designer and manufacturer of audio/video furniture and home theater seating. He came up to us with the requirement of building an enterprise-level web portal with high-end functionalities. The objective was to present the products in the most powerful manner, that could attract buyers of ready-made furniture products or those who were looking for customized pieces of furniture for their home and commercial spaces. The client wanted the portal to strongly establish his business's online presence and enhance the brand awareness among his target customers.
Challenges
To integrate Custom Configurator Feature
To integrate Product Management along with various ERP and CRM features
To implement reports module and build dynamic dashboard.
Our Solution
We delivered an Enterprise level Ecommerce solution with emphasis upon two sections – Product Listing and Custom Configurator. Visitors have the option to either browse through the ready-made products and accessories or use 'Custom Configurator' to build their own unique pieces of furniture and home entertainment seating. They can select the style, the configuration, and the functionality as per their requirement. Once done with the selection, the portal allows the visitors to do the order placement as well.
The portal backend has high-end functionality related to Product management, ERP and CRM. It empowers the admin to gauge the order placements, keep a track of the inventory items, do client management, run marketing campaigns and perform other crucial activities.
Technology Used
PHP with CodeIgniter, Custom CRM, Maconomy ERP Integration, ActionScript 3 for Configurator, M-Script and AngularJS.