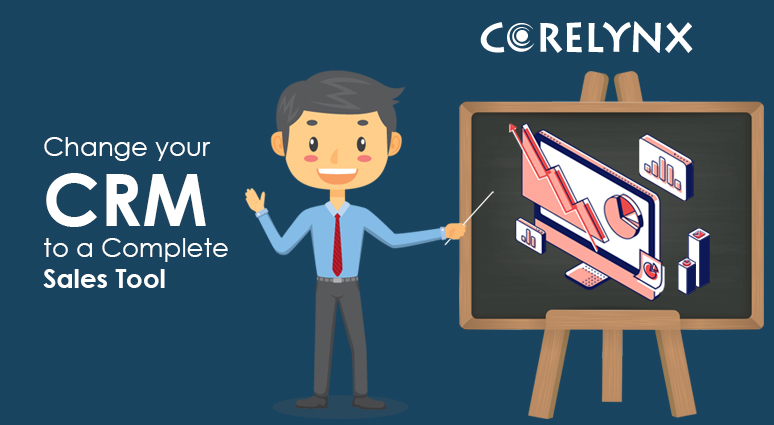 Posted by Paul Anderson
Change Your CRM to A Complete Sales Tool
CRM can prove to be a powerful tool to supercharge your business when used correctly. Though it had a humble beginning as a contact manager it has matured to become an integrated part of enterprise business application suite. CRM software solutions glean information on customers that can offer useful insight to the sales and marketing team to close more deals in less time.
However, many companies till today have failed to see it beyond a contact management system. They insist their sales representatives to update CRM on a regular basis without realizing what they can do with that information. But, besides being a customer management system, it can also act as a complete sales tool and here is how.
Given below are some smart tips on how sales representatives must use the CRM tool.
Update information: To benefit from CRM entries the data must be updated without duplicity. If you are importing your contacts to CRM it is important to ensure that the data is updated. Duplicate entries can cause confusion among sale team and reduces the effectiveness of the CRM.
Employ standardization: To boost sales through CRM you must employ a standard format of data entry across the organization, i.e. everybody should be following a set format of data entry and same special characters and abbreviations are used.
Cut the clutter: It has often been seen that CRM software solutions instead of facilitating the sales process complicates it by requiring the sales representatives to update data in a complex interface. We need to remember that account managers are revenue generators and therefore shouldn't be wasting their time in updating CRM software. Most CRM software service providers will allow you to customize the product to best meet your requirements. Keep it as simple as possible.
Product information: When your account managers are hot upon the trail they can't be diverted from their end goal and for that reason they must have easy access to all information related to product, pricing, deals, discounts, availabilities etc. You can make all these information available through live feeds on your CRM.
Integrate marketing and sales: Today jobs are more specialized. Most companies have separate marketing department who are responsible for picking up the thread where the sales team has dropped it. A proper integration between the sales and marketing segments will ensure more closed deals.
CRM – ERP integration: The enterprise resource planning software can offer better insight on customers' financial history to help sales executives form a better understanding. Moreover, it offers effective inventory management and tracking, purchasing, vendor integration, and more. Integrating ERP with CRM will allow your representatives to check product availability, pricing, generate quotes, invoice from the customer management interface.
Easy reporting system: Account managers spend a significant portion of their productive hours in communicating with the management; reporting on their progress. Introducing an easy reporting interface in CRM will minimize the time loss.
Understand what your sales team need in customizing the CRM. Only then you can ensure that your team is taking full advantage of it.